Thinking About Law School?
In A2Z, Dean Sarah Zearfoss employs her years of experience working as the Dean of Admissions to help students prepare better applications for law school.
Questions About Michigan Law Admissions?
Contact our team of admissions support professionals for guidance, materials, and information about the Michigan Law admissions process.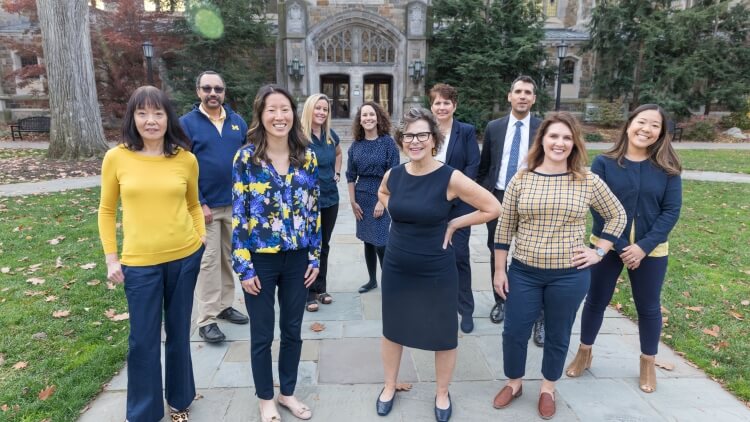 Choosing the Right Law School
No matter where you are in your law school application journey, we have advice for you. Whether Michigan Law ends up being the right place for you or not, we want you to feel confident about the process of choosing the right law school.
JD Class Profiles
At Michigan Law, our people and approach set us apart. Bonds formed here last a lifetime because our students and faculty believe that one person's success doesn't have to come at someone else's expense. So as you think about law school, consider not just where, but how and with whom you want to spend the next three years.
Graduate Degree Programs
Michigan Law has a long and proud tradition of welcoming international students. The Law School offers three graduate degree options for foreign-trained lawyers. See below for more information on each.
Michigan Law at a Glance
Michigan Law is one of the world's premier legal institutions, but we take particular pride in the fact that our students truly enjoy their time here, even as they are immersed in a rigorous educational environment. 
In part, this is because we attract people who really care about community, and who want to be engaged with their fellow students. We also offer a breadth of curricular resources, including the opportunity to do graduate work at our 100 top-ranked schools and departments. 
Visiting the Law School
If you would like to visit Michigan Law, we would be happy to welcome you for a tour and individual appointment. 
If you would like to schedule a meeting with an admissions counselor, whether in person or via phone or video chat, please email us at law.jd.admissions@umich.edu or give us a call at 734.764.0537. 
Discover Ann Arbor
The sixth borough, the 21st arrondissement, the second Loop, the seventh Zone: Ann Arbor has been called all of these and more. But only in the minds of its residents. 
Ann Arbor's charm is known almost exclusively to the people who have lived here, but we assure you, it does exist.
We know you'll just Google us, so we wanted to give you something that you can't find on Google: an alum's honest assessment. 
#1
Most Educated City in the U.S.
#2
Most Livable City in the U.S.
#9
Most Innovative Metro Areas in the U.S.
To call Ann Arbor the quintessential college town is an understatement; it was, for me, the ideal place to study law. The law school is housed in one of the world's most beautiful college quads. It's walking distance to pedestrian-friendly streets, dotted with charming bars, restaurants, and book stores. The campus is anchored by the largest stadium in the country, which on fall Saturdays turns Ann Arbor into a revelrous ocean of maize and blue.