About the LLM Program
The Michigan Law LLM program began more than 130 years ago and continues to flourish today. Unique among its peers, our program stands out for many reasons.
In our LLM program, you will:
develop meaningful and lasting relationships with your classmates
be fully immersed in the US legal system by taking classes with JD students
learn from our faculty of globally renowned scholars and practitioners
become part of a community of more than 45,000 graduate and undergraduate students from six continents
reside in a small city that is widely recognized for its high quality of living in the heart of the United States
have easy access to restaurants, cafes, shops, theaters, museums, athletic venues, and parks
Do you have questions? We have answers!
We've asked our current and former LLM students to offer an insider's view on some of the questions we hear most from prospective students. Browse popular questions, read student profiles, or submit your own. 
Why Choose Michigan Law's LLM Program?
LLM Degree Requirements
Degree Requirement Details

Earn at least 24 credits. At least 18 of these credits must be earned in Michigan Law School courses.
 
Satisfy the constitutional law requirement. Successfully pass either Introduction to Constitutional Law and American Legal Process (Law 631, for LLM students only) or Introduction to Constitutional Law (Law 540, the JD required course).

Law 631   Law 540
 
Satisfy the research requirement. Successfully complete a qualifying seminar or course or earn two credits of Independent Research (Law 900).  

Law 900


We encourage students not only to consider courses in their area of legal interest, but also to take courses that expand the way they think about the law and legal problems. 
Students should also consider the professor teaching the course. Many students select classes for the opportunity to engage with specific professors, not only for the course topic, but for the excitement of their intellectual approach to legal studies.
Apply Now for Michigan Law's LLM Program
The Michigan LLM is a full-time program, and all students begin classes in late August and graduate in early May. LLM students are permitted to enroll in most Law School courses, including several clinics. In fact, we reserve seats in many fall semester courses to ensure places are available by the time you enroll. We offer two courses that are exclusive to LLM students (a constitutional law course and a research and writing course). Both courses are optional, though generally recommended.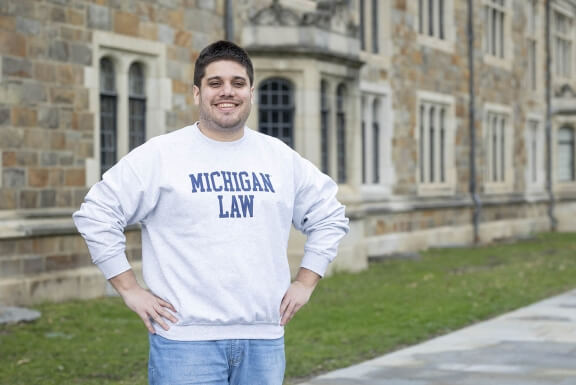 Michigan Law offers an intellectually stimulating environment within a close-knit community. It has a wonderful curriculum in international and comparative law and opens up incredible opportunities.