Class-Year Reunions
Every fall, Michigan Law hosts classes celebrating milestone anniversaries in the Quad: 5, 10, 15, 20, 25, 30, 35, 40, 45, and 50 years. We also welcome back all emeritus alumni celebrating 51 or more years since graduation. 
Fall 2022 Reunions
Registration and a full schedule of events for the fall 2022 Reunions will be available at the end of June.
September 16–18, 2022
Celebrating the classes of '92, '87, '82, '77, '72, and emeritus alumni
Learn More About the September 16–18 Reunion
September 23–25, 2022
Celebrating the classes of  '17, '12, '07, '02, and '97
African American Alumni Reunion
Michigan Law's first African American Alumni Reunion took place in 2014, and is held in Ann Arbor every three years.
The Reunions are an opportunity for alumni to connect with current students, attend and participate in panels and other programming, bond with fellow Michigan Law graduates, and support the recruitment and matriculation of African American students at Michigan Law.
The event is open to all Michigan Law alumni registrants and their guests.
European Alumni Reunion
The European Alumni Reunion brings together Europe-based alumni, and welcomes graduates from the JD, LLM, and SJD programs along with those who have spent time in Ann Arbor as a lecturer, visitor, or research scholar. Each edition of the event is held in a different European city and all Michigan Law alumni are welcome, even if based outside of Europe.
The Reunions include substantive panel discussions on leading issues in European and U.S. law as well as social gatherings, and are a chance to reconnect with classmates, colleagues, and friends. Typically held every five years, planning for the next Reunion is currently on hold due to the pandemic. 
Distinguished Alumni Award
The Distinguished Alumni Award recognizes extraordinary alumni whose achievements exemplify the values and ethos of the University of Michigan Law School.
Presented annually to one or more deserving alumni, the award is intended to highlight individuals who have made an exceptional impact on their profession, community, and Michigan Law.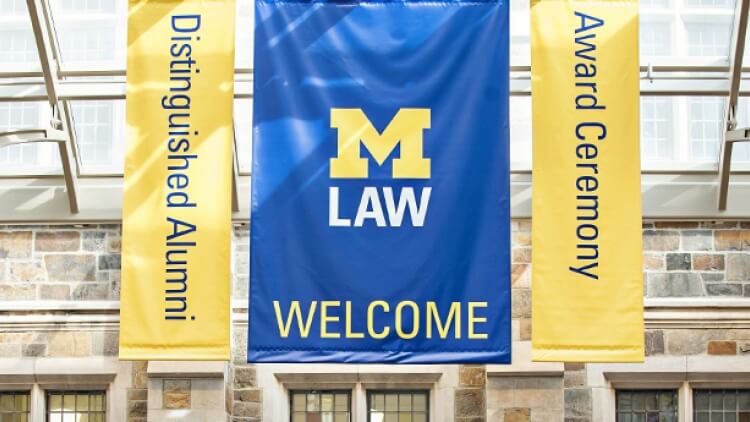 Alumni Service Day
Michigan Law's Alumni Service Day is an annual event for alumni to serve their local communities and connect with fellow Michigan Law graduates in their area.
Local volunteers partner with community organizations to take on a project that can make a difference in a single day, such as planting a community garden, sorting food for a food bank, and other initiatives.
Insights from the Quad
Michigan Law hosted a series of virtual faculty discussions during the 2020–2021 academic year on a wide range of legal topics. Tune in below to catch up on any events you missed.