Significant changes could be coming to the process for reviewing new federal regulations, according to Richard L. Revesz, administrator of the Office of Information and Regulatory Affairs (OIRA).
Revesz spoke to the Michigan Law community recently at the first event in this year's Environmental and Energy Law Lecture Series. He explained that one major responsibility of OIRA is overseeing the Executive Branch review of proposed and final federal regulations, a process, he noted, that has not really been updated since the Clinton administration—and has not materially changed since the early 1980s.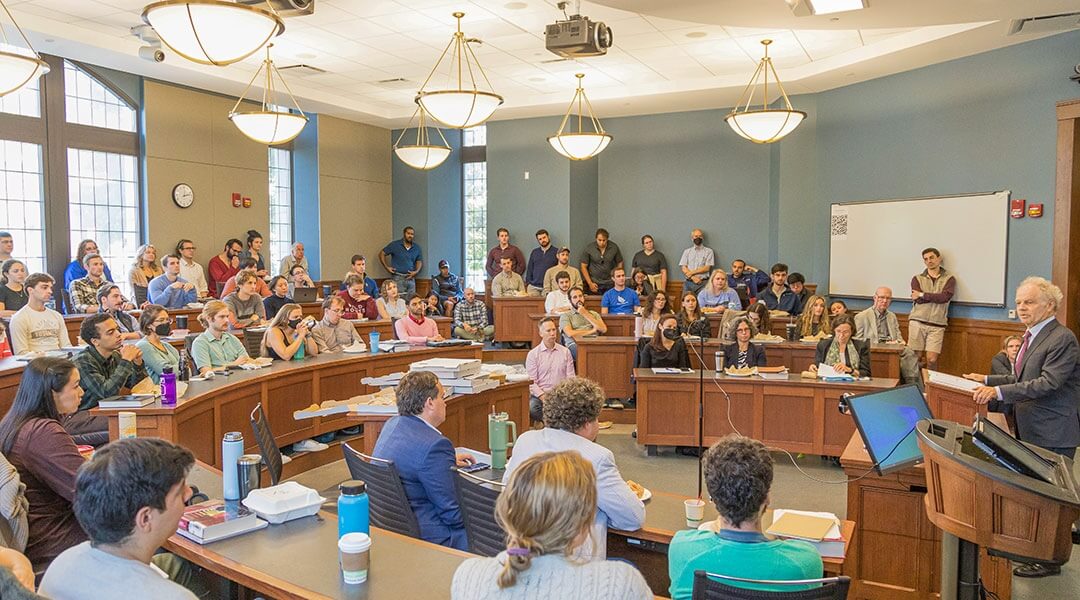 President Biden has issued an executive order to modernize the regulation review process. This order, among other things, raised the threshold for which regulations are considered "economically significant" from $100 million to $200 million; as Revesz quipped, "a hundred million isn't quite what it used to be." 
As part of this modernizing initiative, OIRA is updating a document called Circular A-4, the government-wide guide on how new regulations should be evaluated. OIRA's proposed 90-page revised draft of Circular A-4 is currently undergoing a period of review and comment, Revesz said.
Revesz—who is currently on leave as the AnBryce Professor of Law and dean emeritus at the New York University School of Law—focused his lecture on a few specific changes OIRA has proposed that would likely have substantial environmental impacts:
1. Reducing the "discount rate"
Revesz noted that a regulation's costs—such as major spending to reduce greenhouse gas emissions—tend to happen in the near term, while its benefits—like lowering premature deaths—often take much longer. "The question is, how do you bring future benefits to the present value?," he asked. "If you're going to get a benefit of $1,000 fifty years from now, what is it worth now?"
One of the discount rates that federal agencies have used for this purpose is 3 percent annually, which was based on the real financial return from government bonds over the 30-year period preceding 2003, when Circular A-4 was published. But using updated numbers would suggest a current discount rate of 1.7 percent, which is what OIRA is recommending in the proposed revision. 
"This actually makes a significant difference" on the effect of a regulation, Revesz said. In that proposal, OIRA is also recommending replacing another discount rate of 7 percent, used in certain circumstances, with a new system that more accurately reflects the overall impacts of a regulation on all consumers. 
Closely related to this is a focus on who pays and who benefits.
Federal agencies have long had to justify a proposed regulation's costs against its expected benefits. Yet Revesz argued that they have typically ignored requirements to consider exactly who pays those costs and who receives those benefits: "The reality is, agencies have never done this in anything like a reasonable way," he said.
"For the most part they haven't done it at all, and when they have done it, it's essentially taken this form: 'This regulation reduces pollution. Pollution has disproportionate impacts on disadvantaged communities. Therefore this regulation is good for disadvantaged communities.' It doesn't look at who pays the cost of this regulation. And OIRA has not been successful at policing this."
The draft Circular A-4 puts new emphasis on doing this deeper analysis with a "robust and credible" system, Revesz said. Having that perspective won't necessarily determine whether a new regulation should move forward, he added, but the information is important to the analysis. 
2. Expanding the geographic scope
Traditionally, analysis of the impact of a proposed regulation has been limited to the United States, Revesz said. Yet some costs incurred in the US are borne by foreign investors; at the same time, costs around the world affect US citizens. So, in some cases, a more global perspective is appropriate.
"The paradigmatic example is climate change," Revesz said. "Climate change obviously affects people in the United States, but there are millions of US citizens living overseas. Presumably the US government cares about them. And the government has significant military installations around the world, and some of them are affected by climate change.
"If we take action (on climate change), that makes it more likely other countries will take action. If we don't do that responsibly, if we don't consider the impacts elsewhere, it is likely other countries won't do that as well."
3. Accounting for unquantified benefits
Revesz noted that some costs and benefits can be hard to quantify in terms of money. For example, he said, wetlands provide benefits to society that are hard to put a price on, which makes it hard to consider the full benefits of a regulation protecting wetlands. To address that problem, OIRA has launched an effort to offer guidance on how agencies can consider those impacts.
OIRA is also sponsoring a related project in conjunction with the Office of Economic Policy called Frontiers of Cost Benefit Analysis. This group will research aspects of the cost-benefit process that are hard to quantify, Revesz said.
In addition, another new, longer-term initiative focuses on creating better statistics for environmental and economic decision making. Revesz noted that gross domestic product (GDP) is a familiar measure of economic activity, but it ignores the impact of economic activity on natural resources. "If we provide productive capacity by essentially impairing the resilience of natural resources, we'll be less able to provide the right capacity in the future," he said.