Annie Sloan, a third-year Michigan Law student, is a 2023 recipient of the Wanda Nash Award, presented each year to a student or students at Michigan's law schools for outstanding contributions to animal law.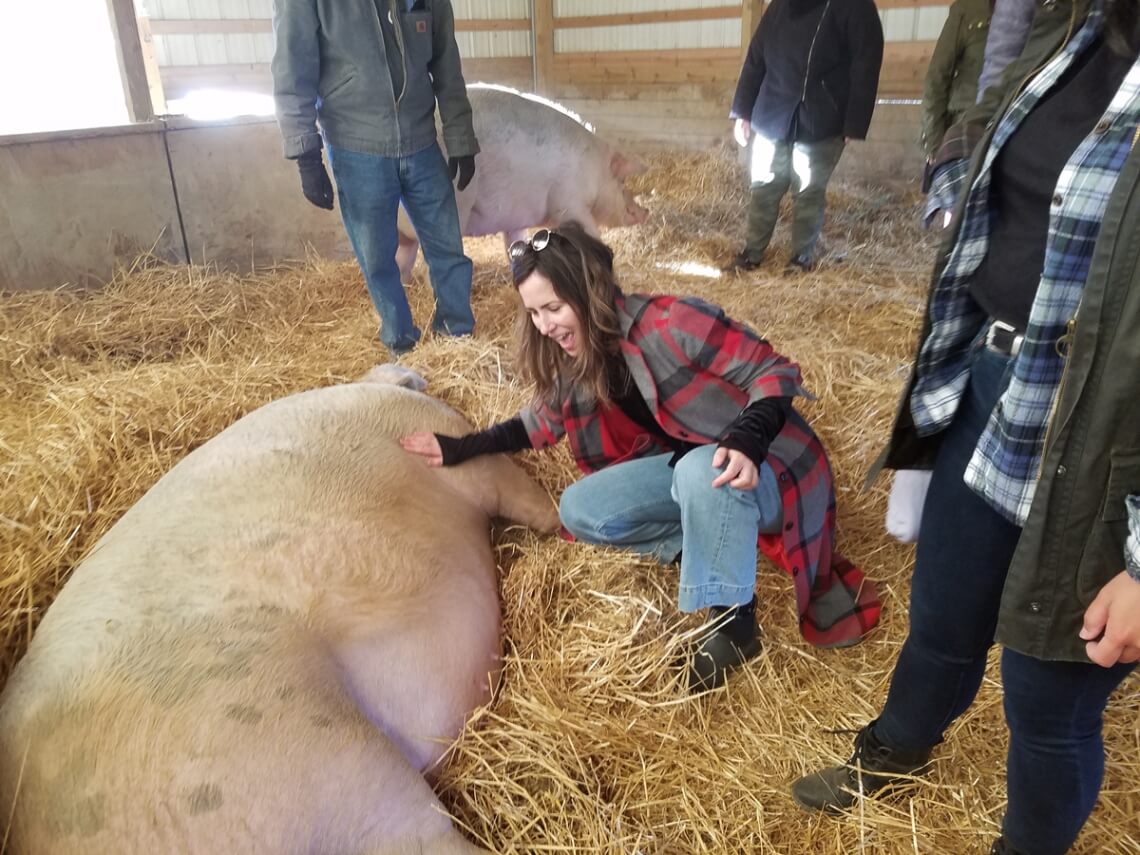 The Animal Law Section Council of the State Bar of Michigan selects the recipient of the award—created in 2006 in honor of Wanda Nash, described by the Animal Law Section as a "visionary dedicated to improving the lives of animals by use of the legal system." Sloan's co-recipient this year is Rebecca Sutton of the Michigan State University College of Law.
Professors Andrew Buchsbaum, Nicolas Cornell, and William Novak nominated Sloan, who will receive her award at a ceremony at the Law School on April 14. 
"Annie has done great and tireless work in the field of animal law," wrote Novak in his nomination message. "I can personally attest, as Annie's instructor in two American legal history classes, she is fully dedicated to this cause and works in each and every class to get faculty and colleagues to consider animal law and animal rights perspectives and to try to change the way humans treat other animals."
As president of the Food Equity & Ecological Diversity Society (FEEDSoc), a student organization, Sloan has hosted vegan gatherings for discussions of sentience, obstacles to food sovereignty, animal rights, and other topics. While Michigan Law has just one animal law class, she has written papers related to animal law for her other classes and was thrilled to learn that professors Nicolas Cornell and Anne Peters will co-teach a second animal law course in the fall.
"When appropriate, I have brought up animal law-related issues in my classes," said Sloan. "Animal law easily touches most areas of the law. Recently in the Environmental Law and Sustainability Clinic, we talked about the Rights of Nature doctrine and factory farming. In Early American Legal History, we discussed Pierson v. Post. And in Evidence, we talked about issues that arise when demonstrating 'pertinent character traits' and considered whether violence or kindness toward animals could be discussed in a trial about a bar fight (and the link between animal cruelty and violence toward humans)."
As motivation for this work, she cites approximately 80 billion land animals and three trillion fish that are killed each year to feed humans. 
"As Professor Joseph Vining pointed out over a decade ago, 'animal law is affected by a widening sense of animals as having intrinsic worth, even individuality.'" 
She adds that, in the United States, "ag-gag laws and food libel laws help obscure animals' realities and institutionalize animal cruelty. Laws like the Humane Methods of Slaughter Act and the Twenty-Eight Hour Law are woefully inadequate and severely underenforced." 
Following graduation, Sloan plans to work in animal law to improve these situations within the food system. And the Nash Award provides even more motivation to keep going. 
"This work can feel lonely, but receiving this award has really energized me; I want to use my law degree to change human-animal relations and our food system."