Continued attention and pressure from the international community are required to address ongoing atrocities in Ethiopia, according to Professor Steven Ratner. 
Ratner—the Bruno Simma Collegiate Professor of Law and director of the University of Michigan Donia Human Rights Center—is one of three people who have been serving since 2022 on the United Nations International Commission of Human Rights Experts on Ethiopia. The commission recently delivered its final report to the UN General Assembly.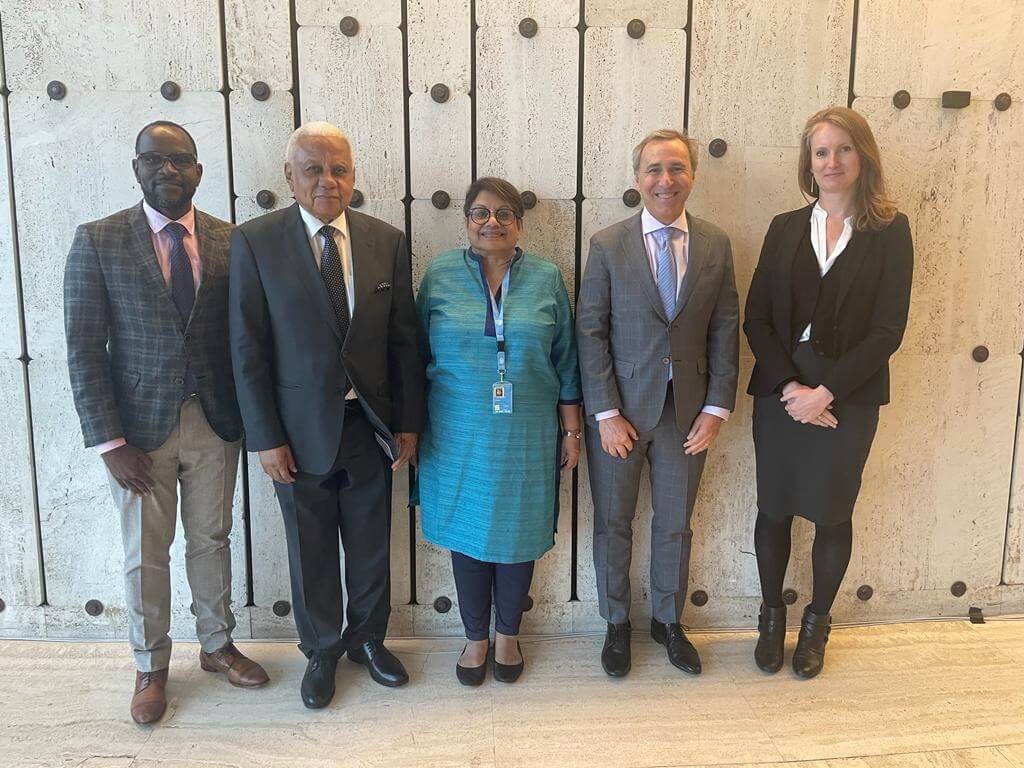 The UN charged the commission with investigating human rights violations in Ethiopia's civil conflict that has been raging since 2020. The commission's mandate recently expired, although Ratner and his colleagues believe more needs to be done. Ratner—who previously served on a panel advising the UN secretary-general on options for bringing Cambodia's Khmer Rouge regime to justice and on a panel advising the UN secretary-general on human rights violations related to the end of the Sri Lankan civil war—recently answered five questions about his work on the Ethiopia commission:
1. Did the results of your investigation surprise you at all?
When we started, I had a sense that the conflict in the Tigray region had been horrendous. But in terms of the gravity of the killings, and the sexual and gender-based violence in particular, only when we started doing the investigations did I gain a full understanding of just how horrendous it was.  
The government's blockade of humanitarian assistance, which happened toward the latter part of the war, resulted in additional devastating consequences. I knew that through second-hand sources but again only appreciated the extent of it after our team began interviewing victims. 
In the months prior to our final report, the war spread to other states within Ethiopia, beyond Tigray to the states of Amhara and Oromia. Though we were aware of the risks of proliferation, we did not expect it to spread so quickly.
2. Did the cessation of hostilities agreement last November achieve anything positive?
Yes, it did quite a bit. It ended the high-intensity warfare between the government and the Tigrayan People's Liberation Front in the north, which was a significant accomplishment. It also ended the blockade of humanitarian assistance, so that at least some humanitarian aid now gets through. 
While we don't diminish the importance of that agreement, we discovered that key aspects of it have not been implemented. For example, the government is supposed to make sure there are no foreign forces there, but Eritrean forces are still present in northern Ethiopia and committing abuses. And the government has made only gestures toward transitional justice, accountability, or reparations and help for victims.
3. You've made it clear that you felt the commission's work isn't done, despite the end of its mandate. What would you have liked to address if you'd had the time?
If our mandate had been renewed, I think we would have looked more into the spreading violence in Oromia and Amhara states, which started around April or May of this year. We also would have done more investigation of the hate speech throughout Ethiopia, which we see as a really serious problem. We only had a short period of time to look into that.
In addition, we would have had more time to look into the responsibility of individuals, whether people in the army at a superior level or governmental leaders. Although we were able to identify some of the people involved in atrocities based on witness testimony, we didn't have time to piece together who was giving them the orders or who was not paying attention when they should have been. And that's a very important issue for both criminal and non-criminal forms of accountability.
4. What should happen now?
At the first level, I think the UN High Commissioner for Human Rights should conduct his own oversight over events in Ethiopia and report publicly to the Human Rights Council. Prevention of further atrocities is part of the mandates of both institutions. The high commissioner needs to do that with a team out of Geneva, because it is difficult for his office in Addis to be independent enough to do that on its own. At the same time, other UN bodies addressing human rights need to follow up. The UN has special envoys who study and issue warnings about sexual violence in armed conflict or about genocide, as well as expert mechanisms on themes like arbitrary detention and internally displaced persons. They need to keep Ethiopia on the front burner.
At the second level, individual countries that care or say they care about human rights in Ethiopia have to make this part of their bilateral agenda. It's important for nongovernmental organizations to keep their attention on this so that governments in democracies, at least, respond to what people are saying. This oversight is needed to ensure that the government rectifies its flawed transitional justice process.
Getting the attention of states on multiple human rights crises and getting the attention in the UN is a real challenge. In the case of our commission, we had delays in getting started because the UN was too busy setting up the Ukraine Commission. It's very difficult to get the UN, its members, and its secretariat to concentrate on more than one crisis. 
5. Is there anything that concerned individuals can do? 
Yes. Concerned Americans can write to their member of Congress or their senators, and others to members of their parliament, and say that their country's foreign policy needs to hold Ethiopia and Eritrea accountable for what has happened and is still happening. Elected representatives listen to that. If you have the financial means to give money to Amnesty International or Human Rights Watch, that can be a useful contribution too.
Simply following the events and being aware and talking with your friends about them can make a difference. Even in this time with other horrific conflicts, this war—which has been going on since the end of 2020 and has led to hundreds of thousands of deaths—is basically being ignored. We need to stay aware of Ethiopia even as there are other catastrophes in the world.
Banner Photo: Steven Ratner, the Bruno Simma Collegiate Professor of Law and a member of the International Commission of Human Rights Experts on Ethiopia, speaks to the United Nations Human Rights Council at a meeting in Geneva on September 21. At left is commission member Radhika Coomaraswamy, former chairperson of the Sri Lanka Human Rights Commission; at right is commission chair Mohamed Chande Othman, former chief justice of Tanzania.