Sarah Alsaden, BA '13, JD '16, was selected as one of four Supreme Court Fellows for the 2020–2021 term, and is assigned to the Federal Judicial Center, the education and research agency for the federal courts. The program offers mid-career professionals, recent law school graduates, and doctoral degree holders an opportunity to broaden their understanding of the judicial system through exposure to federal court administration. Alsaden is the fourth Michigan Law graduate to receive this prestigious fellowship.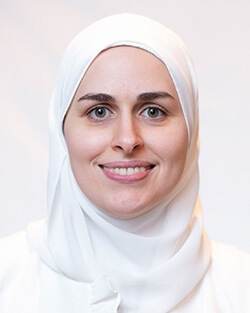 Alsaden's lifelong passion for reading, writing, and storytelling led her to the law because it allows her to use and develop these areas on a daily basis. The fellowship provides a unique opportunity to pursue legal scholarship and begin to develop an academic research agenda. "This is a bit different than the adjudicative role or advocacy roles I've had in the past. I have always had an interest in mentorship and teaching, so this fellowship year will allow me to better understand if academia is something I want to pursue in the future," said Alsaden. 
After graduation, Alsaden spent two years in the litigation practice group at Jones Day in Cleveland, and completed a clerkship with Chief Judge Algenon L. Marbley in the southern district of Ohio. She first learned about the Supreme Court Fellows Program from Greta Trakul, an attorney-counselor and judicial clerkship advisor in Michigan Law's Office of Career Planning. Trakul put her in touch with former fellow Elizabeth Jones, '17, to learn more about her experience in the program. "Following that conversation, I decided to pursue the fellowship since it provides an insider's perspective on the federal judicial system. I was also excited to spend time researching and writing a paper that would be useful to a federal agency, and pursue the opportunity to publish," she said.  
Alsaden has come a long way in a field where there are relatively few visibly Muslim women. "It can be really difficult to imagine yourself achieving something where no one looks like you or shares your background or beliefs," she said. "A challenge that I face as a minority lawyer, someone who wears hijab and is an immigrant, is battling assumptions about my qualifications before I've even had a chance to speak. I think that there are implicit biases in the profession about how a lawyer should look or act and I've had to work hard to prove those assumptions wrong." 
Not one to shy away from a difficult task, Alsaden is energized by tackling complex legal issues and finding creative solutions to address them fairly, and wants to spend her career helping those in need. "The law has a tremendous impact on society, and I hope to be able to research, write, and work on cases with issues that are exciting, interesting, and most importantly, that can help uplift marginalized individuals," said Alsaden. 
No matter what the future brings, Alsaden always remembers her roots as a double Wolverine, saying, "I've been extraordinarily blessed to have graduated from Michigan and to have had the chance to learn and be challenged by the best and brightest."