Since March, Michigan Law Professor Tifani Sadek has served as chair of the legal working group at Mcity, a public-private partnership started in 2015 and housed on the University of Michigan's North Campus.
In her role, Sadek leads a group of attorneys and researchers from U-M, the State of Michigan, and several private, for-profit companies to foster research on law and policy as they relate to the technology of automated and connected vehicles. 
Sadek, who is a clinical assistant professor of law and co-director of the Zell Entrepreneurship Clinic, previously served as in-house counsel at General Motors working on connected vehicles. She discussed her work with Mcity in the following Q&A, which has been edited for length and clarity. 
Mcity is both a physical location and a larger program. Can you explain how it works?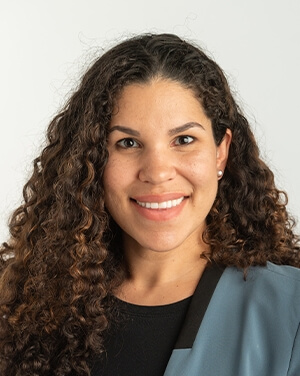 Sure, it's a 32-acre site—the first one of its kind in the country—where autonomous and connected vehicles are tested in a really safe environment. It sets up any kind of interaction a car might have. There's a little city, pedestrians who run across the street, every kind of intersection you can think of. 
It recently launched a second initiative, called Mcity 2.0, which is taking that physical location and basically putting it in virtual reality. If you want to test your physical vehicle, you need to bring it here to campus and that limits who can work with us. 
But what we're seeing is that the hardest step in a lot of ways is the artificial intelligence programs that we need to write to help cars know how to drive, and those can be tested in virtual reality. You can get 1 million miles on the road, putting people at risk, or you can get billions of miles and simulations that are run much more quickly than in a physical environment.
As the chair of the legal working group, what are you focused on? 
We're doing a lot of research right now on privacy—such as issues related to privacy and cars, privacy and smart cities. We're finishing up some of those projects, so we're planning what to do next. At the meetings of our partners, we have a roundtable discussion of what issues they are seeing, what their  problems are, and where they need to find answers.
What are some of the benefits of convening this group of partners to discuss the legal implications of these vehicles?
When you're in-house, you just don't always have time to think of the big picture, and that's what I really value.
When I was at General Motors, one of my many duties was to deal with requests from the government for our customers' data. So if somebody shot somebody and ran off in a car, the police would want us to tell them where that car was, for example. As an attorney, I had to make those calls. It would have been really nice to know what other companies do. 
These are often considered legal questions, and the business is like, "Oh, turn it over to legal." But, really, there are business implications in turning over data. And so I want to talk to in-house counsel of these companies, probably under very tight non-disclosure agreements, and aggregate information about how everyone is handling this. Are they looking at things purely from a legal standpoint? Or are they taking business implications into account? I'll do an analysis of what everyone is doing, what the best practices are, and give people some guidance.
That's why I'm excited about this project—I can write one white paper that goes straight into the hands of in-house counsel and then something that's more suitable for a law journal. I can think about this from bigger questions like, what should we be doing? What should we be regulating?
How long before we commonly see these vehicles on the road? 
There are five levels, and I think most experts would say levels 4 and 5 are truly automated vehicles, where you can read a book while you're driving. Anything under level 4, you need to be paying attention. We are now at level 2 with a Tesla or GM Super Cruise, for example. Mercedes Benz is launching a level 3, which is where you can start to zone out; you may not need to keep your hands on the wheel, but you need to be ready. 
It's one of those situations where we think it's only a couple more years off, based on what we see. But then we solve a problem, and we're like, "Oh my gosh! There are so many things that we didn't even realize that are an issue." So realistically, the way it looks right now, we say it's only a few years off. But I know what that means is it's going to be 10, 15 years off because of all the things we don't know. 
What is an example of some of those things we don't realize are an issue?
When we think about autonomous driving, what I think of is the tech in the car and the AI software. But the things around the car that we need to support it aren't there. It doesn't help that we need regulation and legislation around this area, and we don't have that. Some companies are very hesitant to do too much when they don't know how something's going to be regulated. 
Have you been able to translate what you're learning at Mcity into your classes at the Law School?
I teach a mini-seminar right now on tech trends, and every class we teach a different type of tech. The model for our class is, "Talk to us like we're 5 years old, and start at the beginning." And so in October, we did a class on connected and autonomous vehicles. I talked about the tech behind it, and then we took the students for rides in a Tesla and a level 2+ Volkswagen. Once they understood the tech, they could really analyze what the car was doing and the strengths and weaknesses of the cars.