One piece of advice that Jennifer Fischell, '16, often gives to law school students is that "it is almost never too late to clerk." As Fischell prepares to join the chambers of Supreme Court Justice Elena Kagan for the 2021–22 term, this advice rings especially true.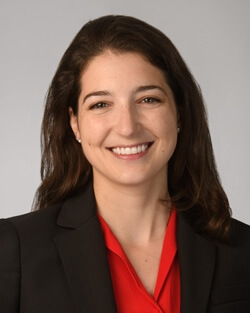 The clerkship with Justice Kagan will be Fischell's third since graduating from Michigan Law five years ago. She spent one year clerking for the Hon. Raymond Kethledge, '93, of the U.S. Court of Appeals for the Sixth Circuit, and then a year with the Hon. Ronnie Abrams of the U.S. District Court for the Southern District of New York. "I was fortunate that these two judges really invested in my development as a person, as a lawyer, as a legal thinker, and as a writer. You get to see so much lawyering when you're clerking, far more than in private practice, and clerks benefit from unique insights into the way the judicial process works," says Fischell. "Clerkships can also be great fun, and hopefully give you lifelong mentors and friends." 
Fischell initially learned about the opportunities provided by clerkships after completing her 1L year. Although she had planned to spend the summer working for an NGO in Beijing where she could practice her Mandarin language skills, Fischell fractured her femur in a skiing accident and needed to use a wheelchair for several months during recovery. Instead of traveling to China, she worked for the Law Library, conducted research for professors, and frequented the upper Aikens Commons in Hutchins Hall, where she spoke with a recent graduate who suggested she consider clerking after graduation. "I'm the first lawyer in my family, and I had no idea what a clerkship was, but he urged me to speak with Professor Joan Larsen, now Judge Larsen, who talked me into applying for clerkships and set me on the path where I am now," says Fischell. 
At Michigan Law, Fischell was a Clarence Darrow Scholar, received the Henry M. Bates award, and graduated summa cum laude and Order of the Coif. She also participated in numerous extracurricular activities, including the Henry M. Campbell Moot Court Competition, where she was a finalist her 3L year. "Campbell was an incredibly collegial experience, and everyone wanted us to perform our best for the federal judges who presided over the final round. By chance, Judge Kethledge was one of those judges the year I was a finalist, though he announced with good humor he would recuse himself from the voting because I was going to be his law clerk," she recalls.
After her first two clerkships, Fischell built a civil and appellate litigation practice at MoloLamken LLP in New York. She made the decision to work at a boutique firm after weighing her options and talking with former classmates. Fischell landed at MoloLamken because she wanted to continue learning through a "clerkship-like atmosphere" where she could be highly involved throughout the life of a case and work directly with her more experienced colleagues.
Fischell is the 26th Michigan Law graduate to secure a Supreme Court clerkship since 2000 and the first to clerk for Justice Kagan, and she looks forward to learning from what she acknowledges is a once-in-a-lifetime experience. Afterwards, she hopes to focus her career on appellate work, but overall she wants to write and grapple with compelling legal issues. "Although I enjoy the quick pace of practice, a part of me misses spending months just reading cases and thinking about the law. Hopefully I'll get at least a bit of that back in my clerkship while juggling time-sensitive and day-to-day tasks. I expect to be busy in a good way," she says.