Len Niehoff, '84, serves as professor from practice at the Law School, where he teaches courses in civil procedure, ethics, evidence, the First Amendment, law and theology, and media law. He also is a nationally prominent practitioner in media law, higher education law, and trial and appellate litigation. He is currently of counsel to the Honigman law firm, where he chairs the firm's appellate practice group and leads its media law practice group. His most recent book is Free Speech: From Core Values to Current Debates (Cambridge University Press, 2022), which he co-authored with Tom Sullivan, president emeritus and professor of law and political science at the University of Vermont.
Below, he answers five questions about why he wrote the book, why it matters, and what's next.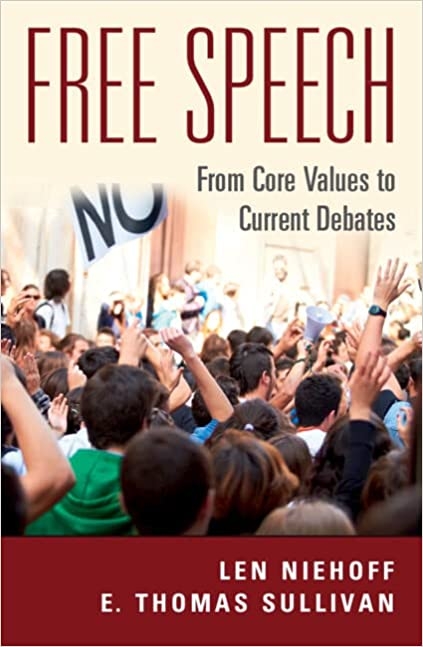 1. Free speech is a wide-ranging topic. What is the main idea that you aim to convey with this book?
Our book is less about conveying a main idea than it is about filling a void in the literature. Tom Sullivan and I wanted to write a book that would improve public dialogue about free speech. Our society has a paradoxical relationship with this freedom: We see it as self-definitional, but most of us have a poor understanding of why we protect speech, how the legal doctrine has evolved, and why the law looks the way it does now. As a result, debates about free speech are often confused and uninformed. We didn't think any existing book did an adequate job of introducing these issues to non-specialists while also offering fresh perspectives on more nuanced matters to specialists. We tried to write a scholarly but accessible overview to fill the gap. Our reviewers tell us we succeeded, and we're very excited about the final result.
2. What do you hope the reader takes away from the book? 
I hope nonspecialist readers will come away with a solid understanding of the values that underlie free speech, the legal principles that have been crafted to advance those values, and why it is so difficult to address some of the challenges that free speech currently presents. I hope specialist readers will come away with ideas and vocabulary they have not encountered elsewhere. For example, in the book we address what we call "The Everyday First Amendment," by which we mean the tendency of people to treat free speech as a moral principle and to apply it even where the law does not require us to do so. 
3. The book's subtitle is From Core Values to Current Debates. What are some of the most important free speech debates happening now? 
I'll highlight three that we discuss at length. One is how we should think about outsized spending on elections, particularly by corporations. A second is how we should think about speech that is hateful in nature, particularly toward minority groups. A third is how we should think about speech that takes place on the internet, particularly on social media. 
4. What are the challenges in applying an amendment written more than 200 years ago to current controversies?
An important one is that the First Amendment was conceived at a time when information moved much more slowly and in smaller quantities. Today, we live under a relentless tsunami of communications and have become addicted to the rush of swimming in it. This makes it hard to manage, evaluate, and deliberate over the communications that come our way. These dynamics have disrupted some of our key models for how free speech is supposed to work and what it is supposed to do. 
5. What is your next project?
I have lots of things in the works. One is a provocative article about two myths that the Supreme Court has used to support its wobbly reasoning in certain cases. Another is a larger project—which I hope will turn into a book—on the human conscience and what the First Amendment tells us about it.