In just her second year of teaching at the University of Michigan Law School, Professor Leah Litman has been chosen by students to receive the L. Hart Wright Award for Excellence in Teaching. The general sentiment of the many students who nominated her is that she is "awesome," "brilliant," and "goes above and beyond to support students in the classroom and outside of it."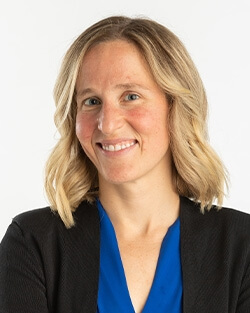 "I'm honored, touched, and humbled to be recognized by the students in this way," said Litman, a 2010 graduate of the Law School. "I know this past year has been a difficult one, as we've shifted to new and different forms of instruction and as everyone has been under additional pressure and stress. It means a lot to hear that the students have enjoyed some of what I've been trying to do in that new and different setting. I found law school, and my time at Michigan, to be so eye opening and intellectually challenging and rewarding. Being able to pay it forward and give that gift back to other Michigan students is incredible."
Litman teaches and writes on constitutional law, federal courts, and federal sentencing. Her current research focuses on systemic challenges in federal habeas review. She entered academia in 2014 following private practice and clerkships with The Honorable Jeffrey S. Sutton of the U.S. Court of Appeals for the Sixth Circuit and Justice Anthony M. Kennedy of the Supreme Court of the United States. Litman returned to Michigan Law as a faculty member in 2019 hoping to study the purpose of legal processes and the role of the legal profession, and to encourage law students to think about those issues as they are entering the profession. Professor Litman previously was a Climenko Fellow and Lecturer on Law at Harvard Law School, where she received one of its inaugural Student Government Teaching and Advising Awards, and an assistant professor at the University of California, Irvine, School of Law, where she received the Professor of the Year Award in 2019. 
First-year student Bryan Borodkin believes Litman "does a fantastic job breaking down incredibly complex material, keeping students engaged, and addressing real-world, modern implications of the constitutional law syllabus. In addition, Professor Litman spends her free time making sure our super-section is well prepared for life as a 2L and is having fun."
Another student nomination praised the purpose and inclusivity with which Litman prepares each lesson. "Not only is she absolutely fantastic at teaching complex material with clarity, she consistently addresses issues of equity. Notably, it is not a simple performative mention of racial inequity, it is embedded throughout the course," said 1L Carly Cannoy. "We do not have a casebook—she literally crafts every case and reading that she assigns with purpose, and often that purpose is giving social context for and impact of decisions along with including the critical writings of academics of color."
Litman says her overall approach to teaching is to encourage students to think critically about everything they encounter. "It's important to me that students learn the kinds of questions they should be asking themselves when they are reading an opinion, constructing an argument, or responding to an argument," she said. "It's equally important that students understand the context and the consequences of the legal issues that we cover in the course. Part of understanding where we are now is knowing how we got here. And I want students to see how law and legal arguments can serve many different purposes. By the end of the class, my goal is for the students to feel empowered and to feel comfortable challenging what they read and what they are told. I don't want them to just accept what they are told or what they read about the law. I want them to be able to talk about difficult issues and come to their own assessment about what the law is and what it should be used for."
Students were in agreement that she goes above and beyond in all she does, but perhaps one student sums it up best: "She is the coolest, most approachable professor I've had, and she makes the scary parts of law school (cold calls, Constitutional Law...) way less intimidating."
The L. Hart Wright Award is named after the beloved Michigan Law professor who was renowned in the field of tax law. The student-nominated award is presented annually to a faculty member by the Law School Student Senate (LSSS).