As the founder and CEO of Inclusion Nation, a diversity consulting company, Michelle (Sharpe) Silverthorn, '08, has a schedule that sees her traveling the country, virtually and in person, to deliver more than 100 speeches a year. One of her most recent speeches, though, took her much farther afield—to Aurangabad, India, to address the Women 20 (W20) Inception Meeting in February.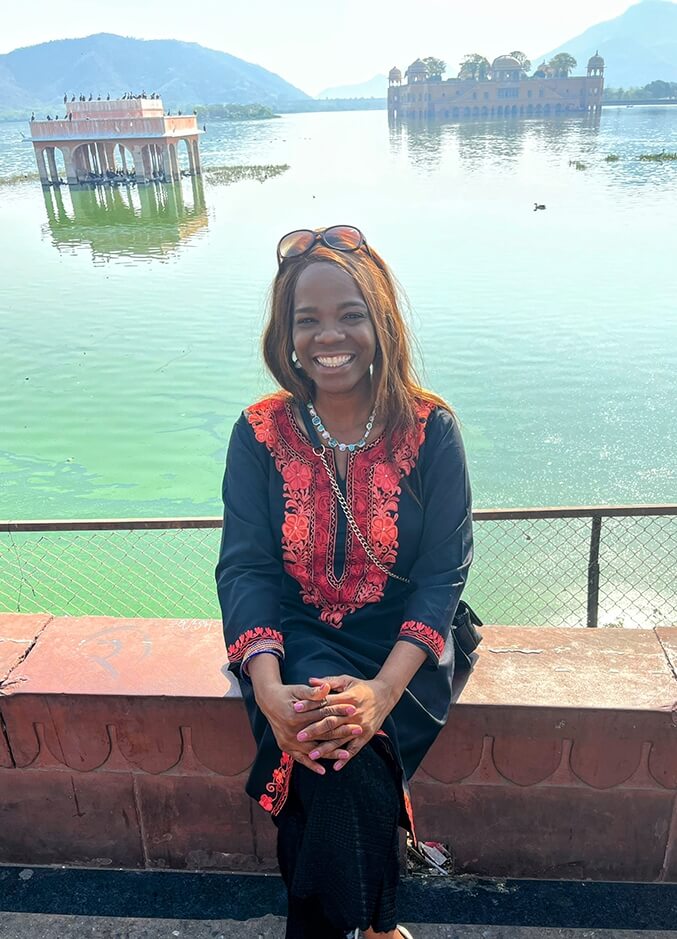 The W20 is part of the lead-up to the annual Group of 20 (G20) summit of world leaders, to be held in New Delhi in September. The objective of the W20 is to ensure that gender considerations are mainstreamed into G20 discussions. 
"It's important to make sure that those leaders recognize the necessity of having women's voices at the table," said Silverthorn. "Especially when many of those leaders are not women."
Two other W20 meetings will be held later this year in India, culminating in the W20 Communique and G20 Leaders' Declaration. The communique will provide solutions to enhance the status of women across the globe.
W20 has approximately 100 delegates representing the 19 G20 countries and the European Union. As a special invitee, Silverthorn was part of the delegation representing the United States.
"A lot of what the G20 wants to address when it comes to poverty, climate change, and other issues has to address the needs of women," said Silverthorn. "Working women, women in the workplace, fertility rates, women's education—all of those need to be front and center, and that's part of the work that we did during the course of the summit."
In good company
Silverthorn's professional journey to the conference began following graduation from law school and jobs with law firms in New York and Chicago. In 2012, she took a position as the education associate for the Illinois Supreme Court Commission on Professionalism, eventually becoming the director of diversity. 
It was in that job that she gained the experience in diversity issues that she was able to leverage into her own company, Inclusion Nation, which she describes as "the best job of my life." She works with a spectrum of companies, from Hollywood film studios and New York banks to many law firms and legal departments around the world.
"I see my Michigan Law friends in their workplaces all the time," Silverthorn said. In addition to her travels, she delivers many of her speeches from her home studio in Ann Arbor, where she lives with her husband Daniel Silverthorn, '08, the general counsel for software company Origami Risk, and their two children. 
Speaking isn't all she does. "I have a phenomenal group of consultants who work with me, who deliver long-lasting initiatives for companies that are sustainable and drive diversity, equity, and inclusion forward," she said. She also has e-learning modules and an upcoming membership community. 
"What I love to see are multiple cohorts of employees at all my client organizations who are well versed in the work of real allyship, including the executives, partners, and leaders."
Earlier this year, a friend from her undergraduate years at Princeton heard about an opportunity to engage with the summit in India—she immediately thought of Silverthorn.
"They were looking for women entrepreneurs to share their stories, especially women who are focused on issues of gender equity," said Silverthorn. "I spoke with the planning committee member and one of the delegates, and we talked about what it would look like to offer my perspective as a black female American immigrant and as a lawyer."
Silverthorn speaks with wonder about the women she met in India. 
"They came from every walk of life. There were UN representatives, lawyers, politicians, authors—different women who represent different facets of the female experience around the world," she said. "There were activists who have been working on women's issues for many, many, many years, at all different levels."
Summit presentations
For her part, she presented a speech to the gathering focused on legal policy and how to create initiatives for the betterment of women. She challenged her audience, who are leaders of various movements in their countries, to implement changes that are sustainable "not just on the surface level, but in the depth of people's hearts so they commit to do the work of change. You want to create a cultural shift."
Following her speech, Silverthorn moderated a panel titled "Enablers for Women-led Development: Policy & Legal Frameworks."
The panel included three lawyers and a UN representative, who discussed the most effective policies for implementing gender equity in their countries and the barriers to those policies. 
"We had so many ideas, from what evidence to give in hearings to who actually wrote the law that was in place—and did they even consider women when they were doing that?"
By the end of the conference, and in ruminating on it in the weeks that followed, Silverthorn was struck by the similarities among the women she met as well as the issues they face. 
"We should never focus just on similarities, because differences matter. Who we are and our cultures and our intersectional identities, they all matter," she said. 
"But we also need to recognize that there are causes and concerns that are the same, there are challenges that are the same. And if we can make sure that those causes, concerns, and challenges as women make it to the front of every single G20 leader's agenda, then we will make real progress for good."
Banner Photo: Michelle Silverthorn, in yellow in the center, met women from all walks of life at the W20.