Michigan Law students Grace Brody, Haris Huremagic, Cheyenne Kleinberg, and Sabrina Tompkins recently joined students from other top U.S. law schools at the 10th annual Salzburg Cutler Fellows Program. The program offers students the opportunity to discuss issues in international law and global leadership, build professional relationships with top legal scholars and practitioners, and network with other law students with similar interests.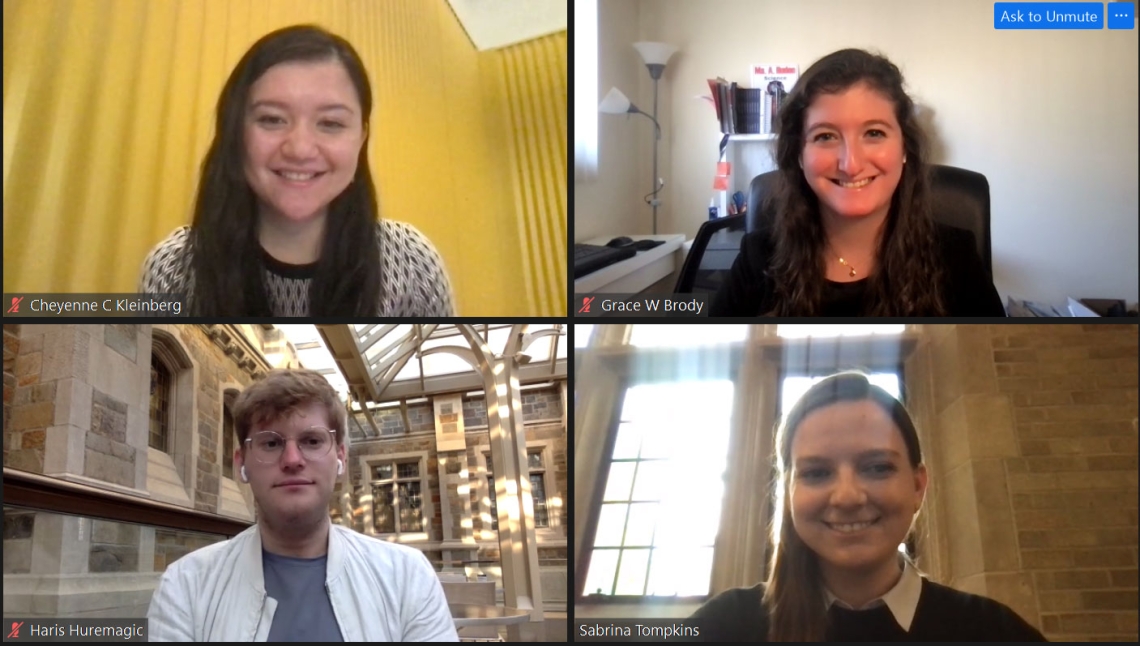 They joined students from 12 other top-tier schools during the two-week online program, which took place earlier this spring. James Hathaway, the James E. and Sarah A. Degan Professor of Law and director of U-M's Program in Refugee and Asylum Law, participated in the program as the faculty representative. 
"I was very proud this year to work with Grace, Haris, Cheyenne, and Sabrina," Hathaway said. "Several faculty colleagues at other law schools mentioned to me just how impressive our students were, and particularly, how broad their range of understanding of international and comparative law was, enabling them to truly succeed in the Cutler format." 
The Russia-Ukraine conflict provided the backdrop for the program, beginning with a keynote session focused on the future of international legal order after Russia's invasion, the future of Ukraine, and the future of the Western order.
"Beginning a program that focuses on the future of international law at such a pivotal moment in world history was quite sobering," said Tompkins. "We were fortunate enough to become more informed about the war from a panel that included a former legal adviser to the State Department and National Security Council, as well as a former employee of the Ministry of Foreign Affairs of Ukraine." 
One of the major components of the Cutler Fellows Program is the opportunity for students to workshop scholarly works in progress with faculty of participating law schools and receive advice on how to publish in academic journals and law reviews. 
Huremagic presented a paper he hopes to publish on the scope of territorial jurisdiction of the International Criminal Court for critique. "Students and the professor gave two rounds of feedback, and this eventually led to a fruitful discussion on substantive issues of public international law. I gained new perspectives and ideas for my arguments, which certainly made my paper better," he said. 
In addition to workshops and panels on current events in international law, students also had the chance to discuss potential career routes with mentors from nongovernmental organizations and the private sector.
"I did not realize the program would provide such a great opportunity to expand my network and make the legal world feel a little smaller," said Tompkins.
As fellows, the students become a part of the wider Salzburg Global Fellowship and are able to connect with fellows from around the world. 
"The program creates a virtual transnational law program for some of the best students in the field," Hathaway said. 
For those who are interested in participating in next year's program, Brody advises students to "take as many international law classes as you can and get involved with the Michigan Journal of International Law—both will give you great opportunities to learn about the variety of topics in international law and find a research area that interests you."