Strict Scrutiny, the Crooked Media podcast co-hosted by Professor Leah Litman, '10, recently won an Ambie Award—one of the top honors in the industry—as Best Politics or Opinion Podcast.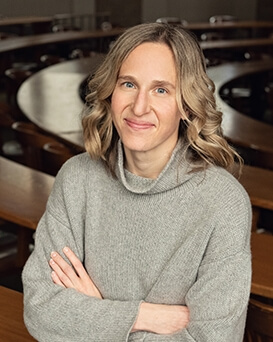 Strict Scrutiny—which focuses on the US Supreme Court and the legal culture surrounding it—won its honor over nominees from The Economist, The Washington Post, and several others. 
Litman hosts the podcast with two other constitutional law professors, Melissa Murray of the NYU School of Law and Kate Shaw of the Cardozo School of Law. The trio launched Strict Scrutiny, which is now produced by Crooked Media, in 2019 and describe it as providing "in-depth, accessible, and irreverent analysis of the Supreme Court and its cases, culture, and personalities." 
Each week they "break down the latest headlines and biggest legal questions facing our country, emphasizing what it all means for our daily lives."
The Ambies, presented by the Podcast Academy, celebrate excellence among all genres of podcasting. Awards were presented at a live ceremony in Las Vegas hosted by comedian Larry Wilmore.
In celebration of the honor, we asked Litman to identify her five favorite episodes of Strict Scrutiny.