While the majority of Michigan Law students begin classes the fall after they receive their offer of admission, Rimpal Bajwa decided to take another route. After earning her B.S. in culture and politics from Georgetown University earlier this year, Bajwa will participate in the Weil Legal Innovators (WLI) Program before beginning her first year at the Law School in fall 2023.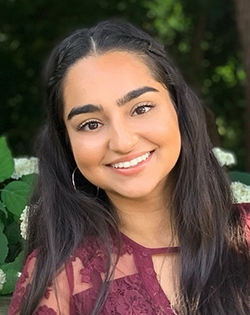 The WLI Program engages students from partnering law schools with nonprofit groups and law centers to address some of the most pressing social and legal issues in our community. The students work full-time positions with these groups, building connections with other law students and networking with professionals aligned with their own career goals. 
Bajwa had initially planned to begin her law school career right after graduation but realized that she could maximize her law school experience by first having some real-world practice in a legal setting. "I wanted to expose myself to the diversity of options that exist in the legal field, whether that's providing direct services or policy advocacy," she said. 
Bajwa will be working with the Tahirih Justice Center, a nonprofit organization that serves immigrant survivors fleeing gender-based violence. She is excited to have a meaningful impact, "whether that's on a case or launching campaigns," then taking that experience with her to law school when discussing legal issues in the classroom. 
It's a cause that Bajwa has personal connections with. 
Bajwa's family witnessed the 1984 Sikh Genocide firsthand. Her family immigrated to the U.S. from Punjab, India, but the trauma of living through those atrocities couldn't be left behind. Learning of this tragedy through family history and reading set Bajwa on her path to law school—with the ultimate goal of becoming an international human rights lawyer. 
She said she felt the need to become a lawyer "for the people that weren't able to express their grief, for the people who were never able to heal, for a community that is still torn." She hopes to work in reconciliation in conflict-torn areas, like Punjab, to help heal those wounds.
As a Punjabi-American, Bajwa has always felt as though she was a part of "two worlds," having to balance "two very contradictory identities." This upbringing gave her a unique perspective on life and international relations. It might seem like events taking place across the world are isolated given the physical distance between countries, but Bajwa sees that as a "very naïve way of thinking. In a globalized world, we are constantly interacting with different cultures, and that's what really got me interested in international politics and relations." 
What first drew her to Michigan Law was a letter she received from Sarah Zearfoss, '92, senior assistant dean of admissions, who wrote, "I love law school." Bajwa said she had never heard someone state in full transparency that they loved law school, especially knowing how challenging those three years can be. 
What cemented her interest in the Law School was its strong international law program and the supportive faculty and students. "You don't need to compete in order to win," Bajwa said. "You can collaborate and win."