Curtis L. Mack, LLM '73, has been named the 2020 recipient of the Distinguished Alumni Award, the Law School's highest honor. The Award recognizes extraordinary alumni whose achievements exemplify the values and ethos of the Law School, and highlights individuals who have made an exceptional impact on their profession, community, and Michigan Law.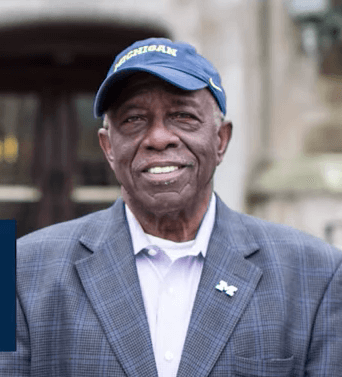 "Curtis is an exceptional lawyer, a dedicated teacher, a devoted mentor, and someone who unfailingly gives back to our community in large and small ways, year after year," said Dean Mark West, the Nippon Life Professor of Law. "He personifies the values that make Michigan Law so special and it is a privilege to confer the Distinguished Alumni Award upon him."
Mack began his journey to the legal profession in Valdosta, Georgia, where while growing up he attended class in a one-room church schoolhouse that was founded in 1850 by his then-enslaved ancestors. He was the youngest-ever graduate from his high school, and went on to receive a BA from Michigan State University, a JD from the University of Akron School of Law, and an LLM from the University of Michigan Law School, where he was the first African American Cook Fellow. He was the first African American tenure-track professor at the University of Florida Law School, and has taught as an adjunct professor at Michigan Law, Michigan State Business School in Dubai, and Emory University. He was the first African American attorney to join the National Labor Relations Board (NLRB) in Cleveland, and was later appointed as regional director of the NLRB's Atlanta region—the second African American to hold such a position and the youngest person ever. In that role, Curtis was responsible for overseeing Georgia, most of Tennessee, and northern Alabama. He also has served as general counsel and chairman of the Florida Public Employee Relations Commission.
Following his time with the NLRB, Mack entered private practice and opened his own firm, Mack and Bernstein, which after 20 successful years merged with McGuireWoods LLP. Prior to his retirement from McGuireWoods, Mack was a partner and led the Atlanta labor and employment group. He has been lead counsel in numerous cases in state and federal courts, and has negotiated or tried more than 250 individual termination actions and sexual and racial harassment cases, as well as NLRB and public section hearings. He has represented 30 of the nation's Fortune 100 companies, passed the bar in five states (Florida, Georgia, Illinois, Michigan, and Ohio), and authored and co-authored several law review articles about labor and employment. 
Mack has long been a committed advocate for young African Americans and other individuals seeking to improve their career opportunities and station in life. He was instrumental in establishing Michigan Law's African American Alumni Reunion, and is considered a founding father of the University of Michigan Alumni Association's Gabriel Hargo Scholarship Fund, named after the first known African American to graduate from the University of Michigan—and the first to graduate from the Law School. Mack was awarded a Trailblazer Award by the education nonprofit Just the Beginning, which celebrated his work supporting minority students pursuing a career in law. Among many other distinctions, he has been named one of America's Top Black Lawyers by Black Enterprise and is a member of the Gate City Bar Association Hall of Fame. Mack also has served as chairman of the Human Relations Commission of the City of Atlanta, as well as on the board of directors of the Alumni Association of the University of Michigan, the Michigan State University Social Science Advisory Board, the University of Akron National Alumni Board, and the We Are Family Foundation.