Three Michigan Law alumnae are recipients of the 2022 Equal Justice Works Fellowship, which will support their work in an area of public interest law. Susan Fleurant, '22, Audrey Hertzberg, '22, and Hetali Lodaya, '19, are part of a class of 84 law school graduates who will design a two-year project to address an unmet legal need in their communities.
"The highlight of the year is when we announce the class of public service leaders who will bring their entrepreneurial ideas and energy to communities that face injustice," said David Stern, executive director at Equal Justice Works, one of the most competitive postgraduate fellowships in the country. "Chosen from hundreds of applications, these new lawyers are destined to make an impact during their fellowships and throughout their careers."
Selected from 385 applications, the 2022 class of fellows includes graduates from 45 law schools who will work at 76 legal services organizations across 20 states, Washington, D.C., and Puerto Rico. Projects are funded by the support of law firms, corporations, foundations, and individuals.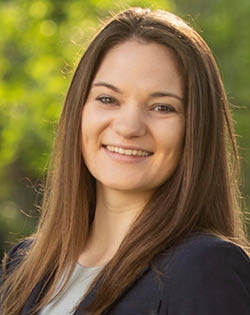 Susan Fleurant will represent disabled workers in Minnesota who receive subminimum wages. In 2021, the Minnesota state legislature passed legislation to phase out the subminimum wage by 2025. Over the next two years, she will work to support workers in their transition to employment in integrated community settings with fair wages. Her work will include individual client representation and monitoring employment providers for compliance with state and federal law in addition to community outreach and legislative advocacy. 
"Subminimum wages reinforce discrimination, ableism, and stigma," said Fleurant. "The economic justice movement must be inclusive of all disabled workers, including those who are receiving subminimum wages in segregated employment settings. My older brother has intellectual disabilities, and his experiences motivate my work."
As a dual degree student at U-M's Law School and School of Public Health, Fleurant said her education prepared her to approach her work informed by interdisciplinary perspectives. She was a student-attorney in the Workers' Rights Clinic, the Civil Rights Litigation Initiative, and the Pediatric Advocacy Clinic. 
She will be hosted by the Minnesota Disability Law Center at Mid-Minnesota Legal Aid, and her fellowship is co-sponsored by Dorsey & Whitney LLP and U.S. Bank.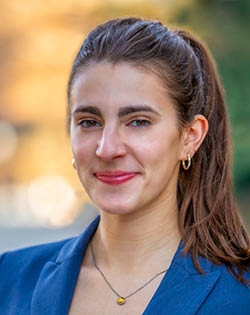 A background in advocating for survivors of domestic violence and sex trafficking is what brought Audrey Hertzberg to the Law School and motivated her to continue combating gender-based violence as an attorney. In her fellowship, she will advocate for survivors by expanding the Sanctuary for Families EMPOWER Center, making it the first medical-legal partnership in New York City to provide family law representation to survivors of sex and labor trafficking. 
She will draw on her work serving clients through Michigan Law's Human Trafficking Clinic and Civil Rights Litigation Initiative, and with the Family Law Project at Ann Arbor's Safehouse Center domestic violence shelter. 
"I have been so fortunate to find myself at Michigan, which has some of the most robust opportunities in the country for law students who want to work against gender-based violence," she said.  
She developed her fellowship project because estimates for the population of human trafficking survivors in New York City are in the thousands, yet only 338 cases were reported and confirmed in 2020. One of the biggest reasons for this disparity is that survivors fear that, by coming forward, they may risk violent retaliation from their abusers and losing custody of their children. 
Her fellowship is funded by Latham & Watkins LLP.
With the belief that strong schools are fundamental to strong communities, Hetali Lodaya developed a project that aims to improve special education service delivery to schools in three North Carolina counties. A two-prong strategy involves directly representing students and families while also engaging in community-based lawyering strategies with local advocacy organizations. 
"Direct representation work aims to make school better for one child and family at a time," she said, "while community-based lawyering tackles the root causes of inequity in our schools. Special education students have been particularly hard hit by loss of services during the pandemic, and two years later the need is still great."
While at U-M, Lodaya earned a dual degree (a JD and a master's from the School of Education), worked with the Worker's Rights and Child Welfare Appellate clinics, and served as an advocate with the Student Rights Project. That pro bono effort allowed her to support students and parents in school settings, just as she will during her fellowship. "The community of public interest students at Michigan Law pushed and challenged me every day," she said. "I am so grateful for that network of mentors and friends."
Her fellowship is funded by Latham & Watkins LLP.