Scott Hershovitz is the Thomas G. and Mabel Long Professor of Law, a professor of philosophy, and director of the University of Michigan's Law and Ethics Program. He also is an editor of the journal Legal Theory. Hershovitz is interested in philosophical questions related to law. He also writes about tort law, focusing on the ways that damages do (and don't) right wrongs. Recently he published Nasty, Brutish, and Short: Adventures in Philosophy with My Kids (Penguin Press, 2022), which he describes as "an irreverent introduction to philosophy—and a plea to see kids as the serious thinkers they are." 
Below he answers five questions about why he wrote the book, how it speaks to the kid in all of us, and what's next.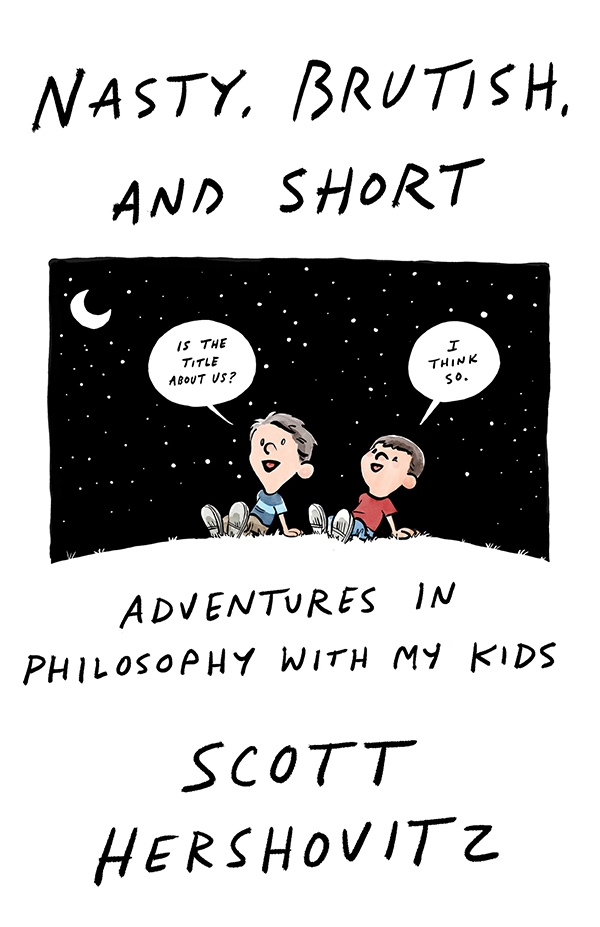 1. From a book about your kids to a New York Times op-ed on Taylor Swift, you've sought to make philosophy accessible to laypeople. Who made philosophy accessible to you? I'm an accidental philosopher. As a first-semester freshman at the University of Georgia, I wanted to take Intro Psychology. But the class was full and Intro Philosophy fulfilled a requirement, so I signed up. The professor, Clark Wolf, was phenomenal. He made his students feel like they were part of a conversation with people like Aristotle, Kant, and Nietzsche, and he held open the possibility that each of us had something important to say. It was the most fun I'd ever had in a classroom, and I've been a philosopher ever since. 
2. How have your kids influenced your own approach to philosophy? In so many ways! To start, they shaped my teaching. Shortly after our oldest, Rex, came along, I noticed that I was talking about him in class. If the topic was punishment, I'd tell a story about something Rex did and ask the class how we should respond. The room would come alive; people love to talk about kids. And suddenly, we'd be deep in a conversation about the purposes of punishment without even having yet mentioned the academic articles that I'd assigned for the day.
The kids also helped me get better at explaining things. Sometimes, law professors say you don't really know a subject until you've taught it. There's truth in that—and even more so if your student is still in grade school.
Last, the kids expanded my interests in philosophy. I'm a philosopher of law. I think about topics like rights, revenge, punishment, and authority. But kids have questions about everything, and part of the joy of writing the book was thinking about topics I hadn't thought about in years—questions about knowledge, consciousness, and the size of the universe.
3. What is the relevance of your book for readers who aren't parents? I wrote the book for grown-ups, and not just those that happen to be parents. We were all kids once, and we had deep questions about the world—and how we fit in it. Lots of us left those questions behind as we aged. But we can recapture some of the wonder we had at the world by listening to kids—and by thinking with them. And also: kids are fun and funny. The book will make you think hard and laugh, sometimes simultaneously. 
4. Which chapter/philosophical theme in your book feels especially resonant for this month and year (May 2022) in which it has been published? The last chapter in the book is about God. It raises the question whether it makes sense to believe in God, given all the awfulness in the world. That something my kids have really been wrestling with through the pandemic—and it's only accelerated since the war in Ukraine started. Recently, the New York Times ran an essay adapted from the book that explores that question in the context of Rex's upcoming bar mitzvah. He's studying hard even though he's skeptical about God. In the essay and the book, I explain why that event's important to us, even though I share Rex's skepticism. And I explain how he reshaped my view of religion when he was just four years old. Since the essay ran, I've heard from hundreds of people—from all across the religious spectrum—who wrote to say that Rex's ideas had also resonated with them. Which is super cool—and an illustration of what we've got to learn from listening to kids.
5. What is your next project?  I've got two more books in the works. First up is an academic project, Law Is a Moral Practice, about the nature of law and its relation to morality. That's under contract to Harvard University Press, and it should be out in 2023. And as soon as I wrap that up, I'll start on another book for Penguin Press. It will also be about philosophy and my family. My sons, Rex and Hank, will be back for further adventures, but I anticipate that the book will deal with some darker themes too.