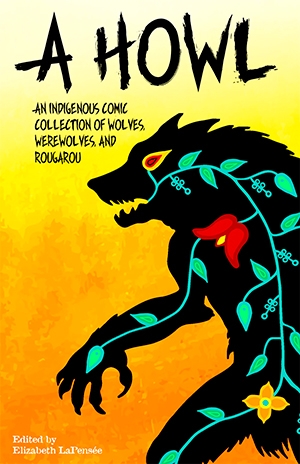 Matthew Fletcher, '97, the Harry Burns Hutchins Collegiate Professor of Law, recently published a story in the graphic novel collection A Howl: An Indigenous Anthology of Wolves, Werewolves, and Rougarou (Native Realities Press, 2022). The story, "Lone Wolf," centers on a Native American lawyer. 
Fletcher, a member of the Grand Traverse Band of Ottawa and Chippewa Indians, teaches and writes in the areas of federal Indian law, American Indian tribal law, Anishinaabe legal and political philosophy, constitutional law, federal courts, and legal ethics. 
He sits as the chief justice of the Pokagon Band of Potawatomi Indians and the Poarch Band of Creek Indians. He also sits as an appellate judge for the Cabazon Band of Mission Indians, the Colorado River Indian Tribes, the Grand Traverse Band of Ottawa and Chippewa Indians, the Hoopa Valley Tribe, the Lower Elwha Klallam Tribe, the Mashpee Wampanoag Tribe, the Match-E-Be-Nash-She-Wish Band of Pottawatomi Indians, the Nottawaseppi Huron Band of Potawatomi Indians, the Rincon Band of Luiseño Indians, the Santee Sioux Tribe of Nebraska, and the Tulalip Tribes. 
Below, he answers five questions about his passion for comics, his burgeoning career in comics, and how he incorporates graphic novels into his teaching. 
1. How did you get involved with this anthology project? 
I started doing my own comics during the pandemic. I began what I called a "plague journal" every day for the first several months of lockdown using a basic comics app. I just kept going after that.
I was approached about this project because I'm a friend of Beth LaPensee, who edited the anthology. I had previously published a short graphic story called "Snapping Turtle Goes to War" in a different collection. 
2. Can you talk a little bit about the story you wrote and how you developed it? 
I'm interested in developing comics with specific themes, which include lawyering for Indigenous peoples, Indigenous peoples in academic spaces, Star Wars, and the state of Michigan. I try to explore the lived reality and experiences of Native people who are lawyers and law students.
"Lone Wolf" is about Indian lawyering, specifically about young-ish Native lawyers who work at large firms, and more specifically about a practice known as "window lawyering," where Native attorneys are used by non-Native partners for marketing but not for the work. It's partially inspired by Jim Harrison's novel Wolf, which was made into a 1994 movie starring Jack Nicholson. 
I was excited to work with Dale DeForest, who did the art for the story. I'm super lucky to have worked with him because he's a really big deal.
3. What do comics mean to you, and how do they relate to your life and work?
Comics are just fun and a great diversion. I use my own amateur comics to teach my Federal Indian Law and Tribal Law classes. I use the comics to detail the principles I want the students to take away from the reading and also add in what I call "historical gossip" about the cases. For talks and presentations, I prefer comics over powerpoint-type presentations. 
4. What do you hope your students take away from the comics you show them? 
In my federal Indian law classes, I use the cover pages of various comics I've generated to give students the answers to my Socratic-type questions before class, and then I turn it back to them to ask questions. This method is known as a "reverse Socratic." I've noticed that once I give them the key takeaways from the reading, the class discussion becomes far more engaging and useful.
5. What's next for your writing projects? 
A few years ago I wrote a manuscript for a book called Windigo Killers that has been adapted into a graphic novel. It is in the early stages of being shopped around to publishers.