Michigan Law 3L and dual-degree student John Petoskey was appointed by Gov. Gretchen Whitmer to the Michigan Advisory Council on Environmental Justice. The cohort of 21 Michiganders were selected to provide "public and impacted community input" on statewide environmental issues, a first-of-its-kind initiative in the state. But for Petoskey, it's part of a years-long career of environmental and political activism.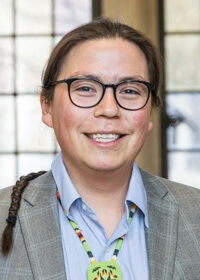 Petoskey is a citizen of the Grand Traverse Band of Ottawa and Chippewa Indians. He had been engaging in community organizing around the Enbridge Line 5 pipeline for years prior to his appointment and met many state and environmental leaders through his activism. It was through one such connection—a colleague in Gov. Whitmer's administration—that he was invited to apply to the council and subsequently was appointed.
"I'm encouraged that the state wants to work more closely with people in the tribal environmental space," Petoskey said of his appointment. "I think that there are so many environmental issues in this state, whether it be the Flint water crisis, toxic waste management, or Line 5, that we sort of have our work cut out for us."
Petoskey will graduate in May with a dual degree from Michigan: a JD and a master of science in environmental policy and planning. He was motivated to pursue a dual degree by a desire "to bring an interdisciplinary aspect to my work as a lawyer," he said.
Now, he wishes to bring that same interdisciplinary focus to his role on the council. 
"For me, that means reviewing how [the administration] makes decisions about natural resources in the Great Lakes, how those decisions affect treaty rights, and whether tribes are engaged through the lens of 'free, prior, and informed consent,'" he said. This consent refers to the right of indigenous peoples to give or withhold consent to a project that may affect them or their territories, as recognized in the United Nations Declaration on the Rights of Indigenous Peoples.
Doing so effectively, said Petoskey, means "not only engaging with the state on instituting some of these changes, but also talking with tribes about what they feel meaningful engagement on environmental decision-making really is."
Petoskey's upbringing played a pivotal role in shaping his passion for preservation. He grew up on an Indian reservation in the Northern Michigan town of Peshawbestown. Surrounded by Michigan's natural landscape, Petoskey "sort of took it for granted" and believed everyone had that same access to nature. "It was just my world," he said. "I think it instilled a desire to protect that natural beauty."
His father was a lawyer and served as the general counsel for their tribe for many years. Petoskey grew up watching his father work on cases related to fishing rights and preserving wildlife in the Great Lakes, and with tribal natural resource departments on conservation efforts.
"I saw that the law can be used as a way to forward some of my goals related to preserving the natural world and bring to action the philosophical conception of the environment as an extension of the community," he said.
At Michigan Law, Petoskey primarily has been involved with the Native American Law Student Association (NALSA) and in advocating for additional course offerings in federal Indian law.  
"There's just a big knowledge gap," he said of the legal and political community at large. "Sometimes, environmental justice issues are not issues of malice; sometimes, they're just issues of ignorance. Part of organizing with NALSA has been with the intention of training classes of lawyers at Michigan Law who can be educated about the rights of indigenous people in this country and how to engage with tribes."
Petoskey plans to join the Environmental Law and Policy Center in Chicago in fall 2020, where he will work on litigation matters and law reform and policy issues.