Before orientation activities got underway for Michigan Law's JD Class of 2026, some students took advantage of an additional opportunity to build community through the Michigan Access Program (MAP). The social justice leadership program leverages experiential learning and intergroup dialogue to offer students from a range of social identities a resource for living, learning, and thriving at the Law School.
Beyond helping students acclimate before classes begin, the program helps them hit the ground running on being social justice advocates during law school and beyond. Both of these aspects appealed to Nithya Arun, a 1L from Palatine, Illinois.
"I'm the first person in my family to attend law school, so I feel as though I am in completely uncharted territory, which makes me nervous about how to navigate my legal education and career," Arun said. "I also wanted to participate in MAP because I wanted to be part of a community of like-minded individuals as passionate about driving social change as I am."
Arun earned an undergraduate degree from the University of Michigan in community and global public health. This past year, she worked at a trade association in Washington, D.C., that advocated to improve public health insurance systems like CHIP, Medicaid, and Medicare. 
She pointed to the MAP participants' training on Michigan's Clean Slate Law—which allows the expungement of certain felonies and all misdemeanors for formerly incarcerated individuals, thus removing a prominent barrier in access to housing, education, and employment—as one benefit of the four-day program. 
"Making a tangible difference in people's lives as soon as my first year of law school made me especially excited to participate in MAP. I left the program feeling optimistic that there are several avenues to be a change agent and that there are people currently in the field leveraging their JD to make a positive impact in their communities and beyond. Ultimately, being a part of MAP affirmed my passion for social justice advocacy and allowed me to see how my passion can manifest in my career."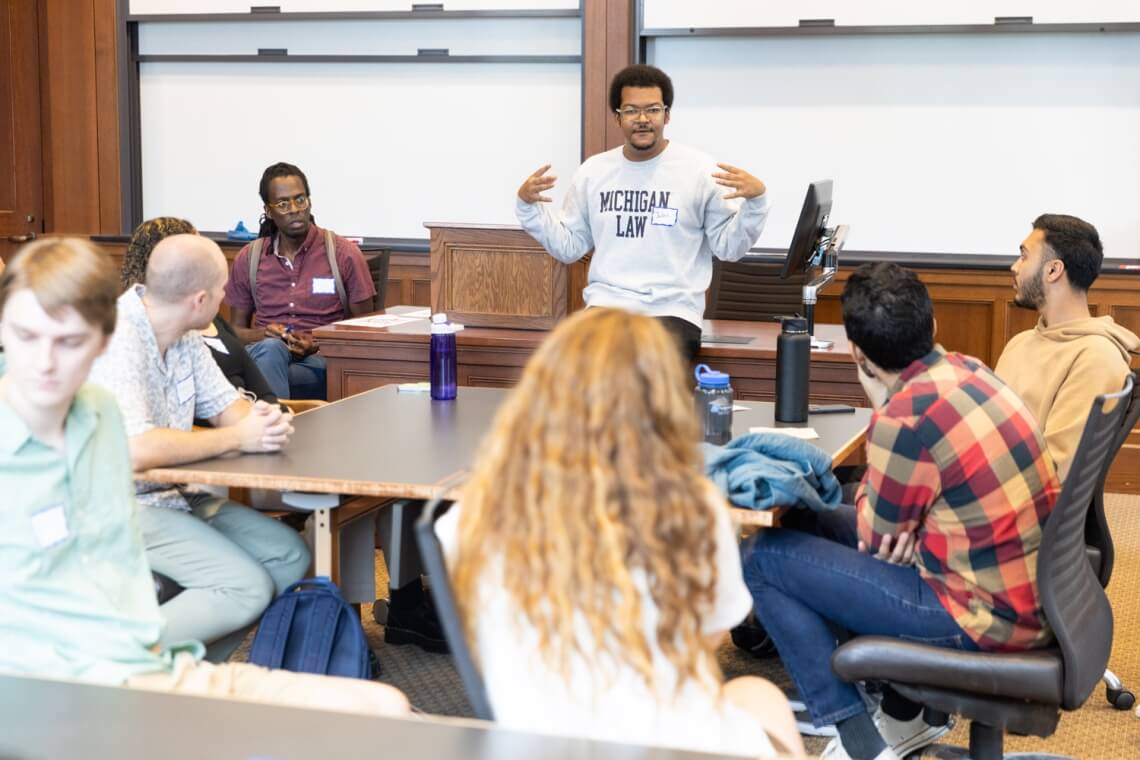 Building systems and blurring ideological lines
Gabriel Jimenez, a 1L from Temple City, California, near Los Angeles, also saw MAP as a way to lay the groundwork for his future career.   
After graduating from the University of Pennsylvania, he spent seven years working in product marketing at Google—based in San Francisco and later in Singapore—where he focused on emerging markets and helping small to medium businesses grow online. He then spent the last year before law school working at a legal aid organization in Houston that serves the homeless and indigent.
"During and after law school, I want to blend my legal education with my participation in labor, housing, and community organizing," Jimenez said. "In doing this work, I've learned that the best organizers build an authentic community of advocates who approach societal issues from different perspectives and strategies. One takeaway from MAP is that in whatever impactful work we choose to do with our law degree, we can't let ourselves get lost in just tearing down the systems and barriers holding people back. It's just as important to exert time and effort on reimagining a world in which everyone can flourish."
MAP seeks to build and support a community of social justice leaders within the Law School, teach leadership and conflict resolution skills with an emphasis on intercultural competence, and provide students with opportunities to explore their own thinking, histories, and beliefs around the concepts of social identity and social justice. 
Challenging his thinking on the cusp of his law school journey was especially important to Jimenez. 
"I was afraid to get caught in an ideological bubble of people who tend to think similarly about law and policy. My ideas and reasoning become more sound when I reckon with drastically different perspectives. MAP has proven there is a grace we can all give each other in law school when stumbling through opposing opinions and beliefs," he said.
A community with passion and purpose
MAP has two basic components: a pre-orientation session that takes place in late August and a series of workshops that occur during the academic year. 
Last year, Jalen Rose participated in MAP as a 1L. This year, he's back as a second-year student leader. 
"I wanted to participate in MAP last year because I thought it would be an incredible opportunity to meet other students with similar interests in social justice," Rose said. "I came back this year as a leader because I loved the community-building aspect of MAP and wanted to help the incoming 1Ls foster meaningful relationships with one another." 
Those relationships helped Rose through the ups and downs of life as a first-year student. 
"Law school can be a very challenging experience at times, and it was helpful to have people to lean on. It's comforting to know that the people I met through MAP are going to be some of my lifelong friends."
Beyond the social support, "Everyone is eager and committed to engaging in dialogue and doing tough thinking about tough issues," Jimenez said.
Arun said that she was excited to see that the passion of her fellow participants matches her own.
"Everyone in my MAP cohort is incredibly accomplished and has a unique story that brought them to law school," Arun said. "Up till now, I have not really been a part of a group as motivated to affect social change, and it was refreshing to see a group of brilliant individuals ready to leverage their legal education to uplift underserved communities and, to put it simply, do good." 
That motivation was obvious to the student leaders, Rose said.
"After one day, it was clear that [this year's MAP participants] have done and will continue to do incredible things as leaders in the legal profession."