The Class of 2025 comprises a diverse group of students from the arts and sciences, nonprofits, the business world, and beyond who all see Michigan Law as an important next step on their career journey.
Take Sara Shapiro, who previously worked as a paralegal on the public policy litigation and law team within Planned Parenthood's national office. There, she supported the team's federal and state court litigation challenging abortion bans and restrictions. 
"I have always wanted to pursue a justice- and public-interest-oriented career," she said. "So going to law school—where I know I will get to learn and draw inspiration from students and faculty with similar interests and convictions—feels like the natural next step for me."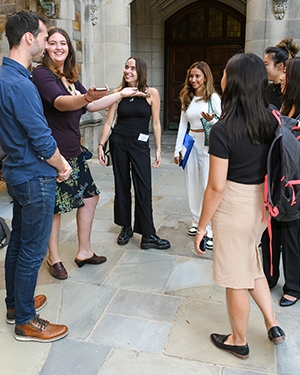 The 336-member class boasts a median LSAT score of 171 (which ties last year's class for the highest ever) and a median undergraduate GPA of 3.83; 10 percent have advanced degrees. The 39.8 percent class yield rate (the percentage of students accepting U-M's offer) is the highest since computer records have been kept.
"This class's credentials are, of course, outstanding," said Sarah Zearfoss, '92, senior associate dean for admissions. "But beyond the numbers, there is not a single person in this class who hasn't done something that I found extremely interesting." 
She noted the incoming students include a high school football coach; a professional rugby player; a food forager and chef for the Detroit Community Fridge; people who speak Mohawk and Navajo, and an Arabic linguist; paralegals for firms that worked on prescription opioid litigation and the Flint water cases (and someone else who did water infrastructure financial analysis for the state of Michigan); two licensed foster parents, including one who has had 16 kids since 2018; a former Miss Alaska; a glazier and iron worker; and a ranch hand.
"Trust me when I say all of this is the tip of the iceberg," Zearfoss laughed.
The 1Ls' undergraduate experience spans 53 different majors, with 10 or more students coming from each of these majors: political science, economics, history, English, international studies, philosophy, or biology.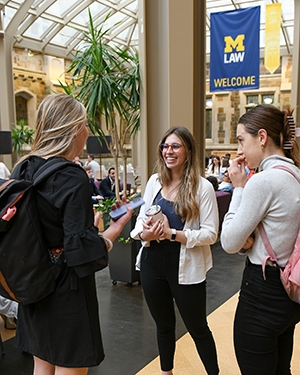 STEM majors account for 21 percent of the class, a record-setting number that includes Fred Folz. He spent the last seven years as a test equipment engineer with SpaceX, designing test setups to develop the Raptor Engine, an engine for the new Starship vehicle. In making the transition from engineering to law, Folz saw Michigan as a natural choice. 
"Given the kind of work I want to do, the strong programs in business and engineering and the connection through the Entrepreneurship Clinic were important," Folz said. "That said, the supportive culture and sense of community that came through during the Admitted Students Preview Weekend were probably the most important factors."
The Class of 2025 is 24 percent LGBTQ+ students and 42 percent people of color; both numbers are the highest in the school's history. As part of its commitment to diversity, equity, and inclusion, the Law School offers the Michigan Access Program (MAP), which seeks to build and support a community of justice leaders.
Twenty-four students from the Class of 2025 arrived on campus a week early to participate in MAP's orientation session. Among them was Leon Boykins, who has balanced a career as an educator and professional musician, including touring the country as a bassist with the Tony Award-winning musical Dear Evan Hansen.
"I felt that MAP would be a great way to meet like-minded peers and provide ideas for potential career paths," he said. "Looking back, it's been great to have the time and space to learn more about the background and motivations of my classmates. They are a wonderful group!"
MAP participant Cecilia Atkins also drew inspiration from the MAP orientation session, especially one of the speakers. 
"Nancy Parker, from whom I learned the term 'movement lawyering,' spoke about the importance of taking cues from organizers in the community and giving power to the people, rather than gatekeeping the law," she said. "That is something I will always carry with me."
Before starting at Michigan Law, Atkins worked as a paralegal assisting plaintiffs' attorneys in the National Prescription Opiate Multidistrict Litigation. Based in San Francisco at Lieff Cabraser Heimann & Bernstein, she worked alongside another incoming 1L, Emily Lovell in supporting a team of attorneys bringing cases against opioid manufacturers, distributors, and dispensers. Her former colleagues achieved a victory in their San Francisco bellwether trial, where the defendant was found liable for substantially contributing to the opioid epidemic in San Francisco.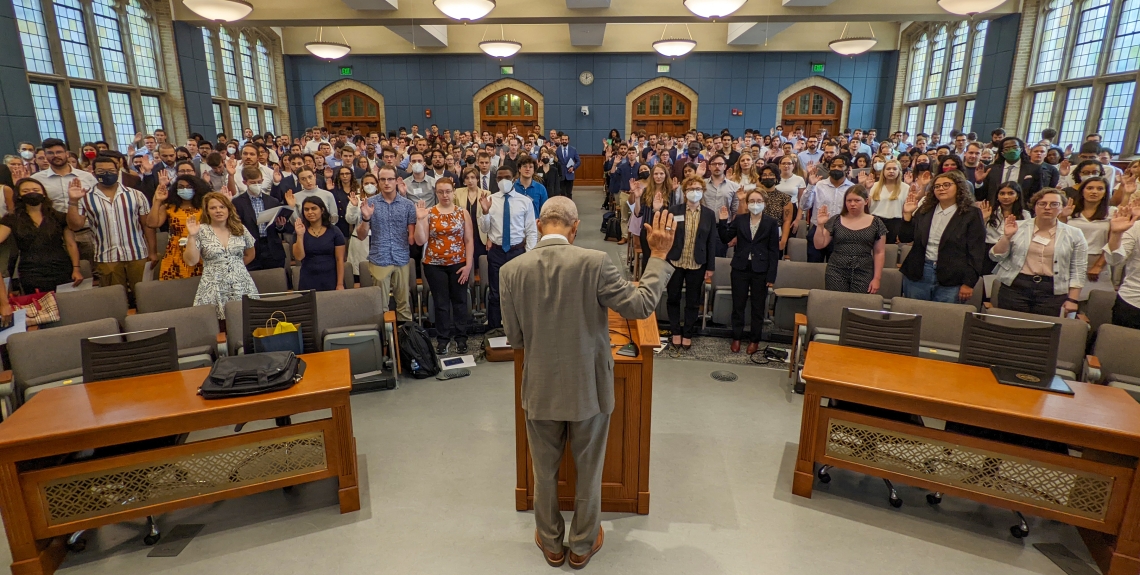 In addition to California, students in the Class of 2025 come from 43 other states as well as Washington, D.C., and Puerto Rico (missing only Mississippi, New Hampshire, North Dakota, South Carolina, South Dakota, and Utah). Other notable facts about the Class of 2025 include the following:
6,254 applications
50 percent women, 49 percent men, and 1 percent nonbinary or other genders 
The mean age is 24.6, and the range is 20 to 41
A record-setting 42 percent people of color, of whom 9 percent are multiracial (totaling 44.9 percent):

19.3 percent Asian American
11.3 percent Latino/Latina
10.4 percent Black/African American
3.9 percent Native American

1.7 percent who are classified as "white" under U.S. census protocols also identify as having Middle Eastern ethnicity (This is the first year the Law School has been able to collect data about what the University terms "extended ethnicity.")
14 percent are in the first generation of their family to have attended college
13 percent report a history of significant socioeconomic disadvantage 
79 percent took a year or more between undergraduate and law school; 
25 foreign countries are represented: Argentina, Bangladesh, Brazil, Canada, China, Cuba, Ecuador, Egypt, Germany, Guatemala, India, Iran, Ireland, Italy, Japan, Jordan, Mexico, Pakistan, Serbia, South Korea, Spain, Switzerland, Taiwan, United Kingdom, and Venezuela
129 undergraduate schools attended