As the immediate past president of the American Bar Association (ABA), Patricia Lee "Trish" Refo, '83, is one of the most influential lawyers around—and is also incredibly purpose-driven. She was recently recognized by the World Jurist Association with a Medal of Honor award for her leadership and efforts to promote the rule of law around the world, a journey that began at Michigan Law.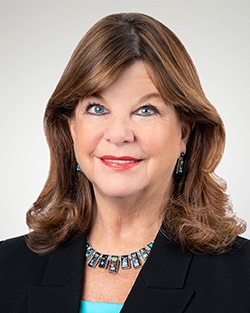 Although she originally planned to pursue journalism, Refo quickly took to the life of a law student. "The Law School taught me deeply that the practice of law is a profession, not just a business. That foundation has impacted just about everything I've done professionally," she said. "This perspective is why I got involved in the organized bar as a young lawyer, and why I stayed involved." 
A partner with Snell & Wilmer in Phoenix for more than 25 years, Refo has become a thought leader on litigation and trial issues. She maintains a clear-eyed view of her day-to-day commercial litigation work and sees it as part of a broader story. 
"The whole premise of the rule of law is that we have a system and a structure around our transactions and offer avenues toward peaceful dispute resolution," Refo said. "Our justice system remains a shining example in the rest of the world. Not because it's perfect, but because the ideals for which it stands are a beacon of light for the rest of the world. When lawyers stand together—whether it's through a local bar or a state bar or the ABA—and speak with one voice on important issues, we make a difference." 
Having previously served as chair of the ABA House of Delegates and the ABA Section of Litigation, Refo assumed the presidency of the organization in August 2020. This first year of the coronavirus pandemic necessitated a lot of changes to her role. "​​We pivoted everything about how the president of the ABA operates. Instead of being on an airplane all the time and spending 300 nights a year in a hotel, I stayed at home. As a consequence, I was able to speak to more than 60,000 people during my year of service, more than any ABA president in history," emphasized Refo. 
By the time she finished her tenure, Refo had given a speech at every hour on the 24-hour time clock due to her busy international schedule. During one memorable two-day stint, she virtually led continuing legal education programs "in" Paris and New York, taught a class at Harvard Law School, and spoke at two state bar annual meetings.
As part of this whirlwind year, Refo was awarded the Medal of Honor from the World Jurist Association for her longstanding involvement with the ABA. "The ABA works in nations all over the world to advance the equal treatment of women, to assist in training judges, to assist in building and protecting an independent judiciary. These are deeply important concepts to the rule of law and to supporting democracies," Refo said. "The rule of law is under attack around the globe. But lawyers, regardless of where they practice, have a common bond around supporting the rule of law, and that commonality crosses borders in ways that I didn't fully appreciate before I had the opportunity to serve as ABA president."  
Her clarity of purpose makes Refo a "satisfied and happy lawyer." She hopes her 21-year-old son Andrew, who grew up attending ABA meetings alongside his mom, will follow in her footsteps. "I can attest to his negotiating prowess because he uses that to get what he wants out of his mom," she said, laughing.
"I love being a lawyer, what can I say? And I learned how to love being a lawyer at the University of Michigan Law School. Everything about my experience in Ann Arbor prepared me for the career that I've had and I'm deeply grateful."