Daniel Fryer, '18, will join Michigan Law as an assistant professor of law beginning in Fall 2021. He currently serves as a research scholar, writing about how legal and political institutions should be constructed to respond to various forms of social and economic inequality, the history of African American political thought, criminal justice, and race theory.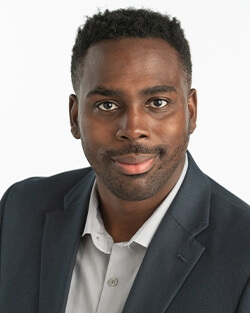 "We are delighted that Daniel is coming home to join the Michigan Law faculty," says Dean Mark D. West. "He has a unique combination of on-the-ground experience from his time as a prosecutor in Philadelphia and his extensive academic training in both Law and Philosophy.  He brings these experiences and perspectives to our students in the classroom and out and to his important scholarly work at the intersection of race, criminal law, and political philosophy."
Prior to returning to Michigan Law, Daniel served as a judicial law clerk for Chief Judge Roger L. Gregory, '78, of the United States Court of Appeals for the Fourth Circuit. He also worked as an Assistant District Attorney in Philadelphia.
"I had the privilege of attending Michigan Law School—a place that values interdisciplinary education, public service, and training students to think sophisticatedly about the law. While in law school, I benefited from the support of many faculty members as I tried to find my place in the fight for social justice. My hope is that I can offer similar support for students and contribute to an intellectual community that includes a great cohort of recent hires, strong criminal lawyers, and one of the best law and philosophy groups in the country."     
Daniel's current project focuses on what it means to emphasize righting past wrongs and why many dominant theories of justice that overlook the need to correct injustices of the past are wanting. His theory of reparative justice has implications in many areas of law, including criminal, torts, contracts, and property. His work provides a framework for legal participants—prosecutors, judges, juries, etc.—to fairly resolve problems that are meant to be addressed by our legal systems and explains why, in many instances, neutrality by those participants should be cast aside for principles that correct injustices. 
Daniel graduated with honors from Michigan Law, where he was community outreach chair of the Racial Justice Coalition, academic chair of the Black Law Students Association, a student-attorney in the Juvenile Justice Clinic, and a pro bono volunteer for the Civil Rights Litigation Clearinghouse. In addition to his law degree, Daniel is completing a PhD in philosophy from the University of Pennsylvania; received an MA, with distinction, in philosophy from University College London; and received a BS, with honors, in criminal justice from John Jay College (CUNY).