Most people don't immediately associate humor with the rigors of a legal education. But according to her students, Professor Maureen Carroll brings levity and compassion to the classroom despite the challenging curriculum.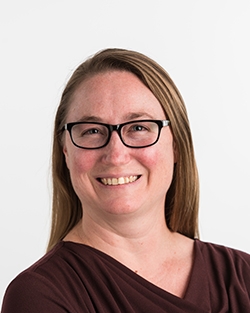 "Professor Carroll has the best sense of humor and is one of the most relatable professors I've had at Michigan Law," said Laura Durand, a 2L. "Her class has been a highlight of my law school experience, and I don't think I would understand complex litigation—let alone enjoy learning about it—if I was not learning it from Professor Carroll. I've never been so consistently happy and excited about going to class. Just being in Professor Carroll's classroom lifts my spirits."
Durand is one of several students who nominated Carroll for the 2022 L. Hart Wright Award for Excellence in Teaching. Carroll, who also received the award in 2018, teaches and writes about civil procedure, class actions, and civil rights litigation. The award is named after a beloved Michigan Law professor who was renowned in the field of tax law, and is presented annually by the Law School Student Senate (LSSS).
"[Receiving this award] means the world to me, because my students mean the world to me," said Carroll. "When I got the news, I started crying happy tears. I feel so fortunate to get to work with such amazing people, and to get this vote of confidence from them is just tremendous."
Carroll joined the Michigan Law faculty in 2017, after teaching at the UCLA School of Law as the Bernard A. and Lenore S. Greenberg Law Review Fellow. Prior to joining academia, she served as a staff attorney in impact litigation for Public Counsel in Los Angeles, and as a clerk for the Hon. Stephen Reinhardt on the U.S. Court of Appeals for the Ninth Circuit. She earned a Bachelor of Science in Electrical Engineering, magna cum laude, from Princeton University and was at the top of her class at UCLA School of Law. 
For Carroll, teaching is best approached with an open mind. "My approach to teaching evolves day to day. I'm under no illusions that I've got everything figured out, and being transparent about that helps to open up space for students to tell me what works for them and what doesn't," she said. "I try to be transparent about my teaching in general—when students know why I've structured things in a certain way, they're more likely to reap the benefits I'm aiming for."
Many of the anonymous student nominations submitted to LSSS noted that Carroll helps elucidate complicated legal theories by focusing on how they will be applied outside of the classroom. Said one nominator, "Professor Carroll puts an incredible amount of work and passion into teaching her classes. From day one of our 1L doctrinal, she put in extra work to teach us how to apply the law to real-life scenarios. Professor Carroll is the best professor I've had while here."
Known as an approachable presence in the Quad, nominating students emphasized the support she provides to everyone who crosses her path. "Professor Carroll single-handedly kept me afloat during my first semester of law school," said one statement in favor of granting her the teaching award. It continued, "She's kind, caring, and compassionate, and it is always apparent that she wants the absolute best for her students. She works hard to make material clear and to give students a number of different study resources, ensuring that students with different learning styles all have a chance at success in her courses. That's all to say, Professor Carroll is an absolute star and we students and the Law School are lucky to have her."