Before COVID-19 forced the unprecedented step of moving Michigan Law online in less than a week, Michael Fayhee lived in the Lawyers Club, ate with his classmates in the Club's dining hall, and kept a stack of quarters handy to do his laundry. But there is a difference between Fayhee and the rest of his fellow 2020 graduates: nearly 50 years after receiving his JD from Michigan Law, he returned to the Quad in order to study the philosophy of law.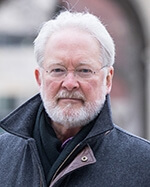 Fayhee, JD '73, LLM '20,  is a tax lawyer who has spent his career building a successful mergers and acquisitions practice at McDermott Will & Emery in Chicago. Always one to set personal goals outside the office, he has made a point of challenging himself every decade of his life. At the age of 50, Fayhee fulfilled his lifelong goal of learning to fly an airplane. At 60, he flew his single-engine Piper Meridian around the world. And at 70, he decided to return to Michigan Law to pursue an LLM degree. 
"I've always had a deep interest in why things are the way they are, including law," Fayhee said. After initially reading books on his own, he felt he needed more rigor and discipline in his approach to studying the philosophy of law. "Reading at night and on the weekends casually was not going to get me where I wanted to go, in terms of my intellectual curiosity."
He couldn't resist the pull back to Michigan Law, citing the school's "fantastic facilities" and "rigorous material," as well as his fond memories of attending as a JD student. 
"The Quad distinguishes Michigan Law from other law schools, and the physical space is something alumni immediately reconnect with when we visit," said Fayhee. "Having the chance to live in the Lawyers Club all these years after getting my JD was a special experience."
Fayhee was the only student from the United States in his LLM class, and he was also the oldest—most of his classmates were between the ages of his children and grandchildren. "This has been a great opportunity for me to observe the millennial generation and I have come away quite impressed," he said. "I think they're more responsible on a wider range of matters, including their jobs, families, the environment, and social justice. They're keeping all of those things in front of them and in balance in a way that I think my generation didn't."
Fayhee finished his LLM program in May, and currently serves as counsel to McDermott Will & Emery. But he is already considering the future, and the draw of the classroom remains. "If the opportunity presents itself, I'd love to take a few classes at Oxford, Cambridge or Edinburgh. I might even find myself at the front of a classroom—it would be fun to teach someday." 
He added, "We all spend time writing our own obituaries at the end of the day. What are they going to say about you when you're no longer here to speak for yourself? I think it's about the experiences that you have, and the connections you make, both in your personal and professional life."