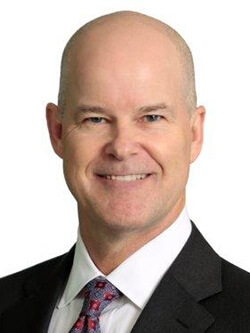 The Breach Family Foundation and Michigan Law alumnus David A. Breach, JD '94, chief operating officer and chief legal officer of Vista Equity Partners, has committed $5 million to the University of Michigan Law School to permanently endow the David A. Breach Deanship. The leadership gift, a milestone in the institution's history, provides critical funds for the dean to invest in major strategic initiatives that advance the Law School's mission and educational and research priorities. The University of Michigan Board of Regents approved the establishment of the David A. Breach Deanship at its December 3, 2020 meeting. 
The gift creates an endowed fund to ensure, once fully invested, that current and future deans of Michigan Law will have unrestricted support in perpetuity to advance key priorities and embrace emerging opportunities. Pending approval by the Board of Regents, Michigan Law School Dean Mark D. West, the Nippon Life Professor of Law, will serve as the inaugural "David A. Breach Dean of Law." For the remainder of his deanship, Dean West will dedicate the funds generated by the gift to support racial justice initiatives at Michigan Law. 
"David's philanthropic leadership and exceptional generosity in endowing the deanship will expand the Law School's ability to address—through research, teaching, and service—the racial injustice and institutional barriers that Black people, indigenous people, and people of color continue to face," said Mark D. West. "The Breach family has long demonstrated its thoughtful and generous commitment to Michigan Law, and this remarkable commitment will help shape the experience of Michigan Law students for generations to come; for that, we are enormously grateful." 
"I came from fairly humble beginnings financially and academically, but I was fortunate to have had people in my life when I was young who saw potential in me. Michigan Law changed my life's trajectory in a profound way. It opened doors I didn't even know existed and set me on a course for professional success," said Breach. "This gift is an investment from my family and me to help ensure this special place remains one of the world's premier institutions of legal education by empowering tremendous leaders like Dean West to make investments in the areas that will have the biggest influence and impact on the Law School, the legal community, and the world. As a proud Michigan Law alumnus, it is a special privilege to have my name associated with such an exceptional public law school and its legacy of excellence."
The Breach family has a history of philanthropy at Michigan Law. In 2017, Breach and his wife, Emily, established the David A. and Emily A. Breach Law School Scholarship Fund with a $1 million gift to support students who have a socioeconomically disadvantaged background or who enter law school already having loans—criteria that resonate with Breach, who came to Michigan Law as a transfer student. 
Breach joined Vista Equity Partners in 2014 and serves as its chief operating officer and chief legal officer and is a member of its private equity funds investment committees. Breach previously was a senior corporate partner at Kirkland & Ellis, where his practice focused on the representation of private equity funds in all aspects of their business. He was a member of the firm's global executive management committee and a founding partner of its San Francisco office.
University of Michigan Law School The University of Michigan Law School in Ann Arbor is one of the world's finest institutions of legal education. The Law School has approximately 1,000 students and a sizable and diverse faculty, with many preeminent in their fields. With 22,000 alumni, its graduates are leaders serving with distinction in the public, private, and academic sectors in the United States and beyond.