The Dow Sustainability Fellowship program at the University of Michigan recently named its 2022 class of fellows, including 1L Lexie Studler. The program aims to support the next generation of sustainability leaders in business, government, and nonprofits by promoting interdisciplinary work. Studler is among more than 40 fellows, coming from a wide range of programs at U-M, from architecture to medicine.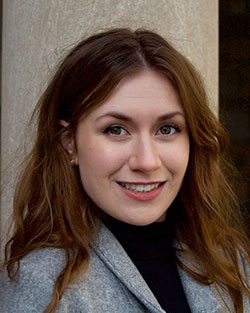 As part of the program, fellows work in interdisciplinary teams to help external organizations further their sustainability goals. Over the course of the next year, Studler will be working with Quantis, an international sustainability consulting firm, to help research the unique challenges associated with bringing sustainable startups to market—and what that means for firms like Quantis. Studler said she is excited by the opportunity to put her skills to use to benefit a real client: "As much as I enjoy reading cases for class, I was attracted to the opportunity to do hands-on work."
Studler is a first-generation law school student and worked in the sustainability field before coming to Michigan. At the Law School, she serves on the planning committee for the Environmental Law and Policy Program's Environmental Justice Conference. She noted that she had the opportunity to speak with the program's director, Professor David Uhlmann—who has been nominated by President Biden to serve as assistant administrator for enforcement and compliance assurance at the U.S. Environmental Protection Agency—as an admitted student and credits his work as one of the main reasons she wanted to attend Michigan. Now, as a Dow Fellow, she said it has been "grounding to work in an area I am comfortable with," given the otherwise steep learning curve of the law school environment. 
Studler also lauded the interdisciplinary nature of the program, saying that it has been "great to experience perspectives and energies from outside the Law School." Her team consists of students from U-M's School for Environment and Sustainability; the College of Literature, Science, and the Arts; the Ross School of Business; the School of Information; and Michigan Medicine. 
After undergoing a highly competitive application process, Dow Fellows receive a $20,000 stipend, supplementary project funding, professional development opportunities, and practical experience working with an organizational partner. Since its founding, the program has distributed more than $11 million in scholarship funds.