Greetings from Michigan Law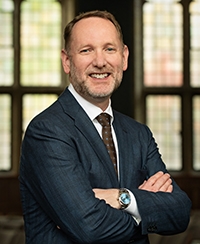 I hope you will join us for a very special Reunion this spring, which will be held at the Law School from June 10–12, 2022. This long awaited gathering will bring together all Reunion celebrants from the postponed events of 2020 and 2021, which includes the classes of  '91, '90, '86, '85, '81, '80, '76, '75, '71, '70, and all emeritus alumni who graduated more than 50 years ago.
This will be our first Reunion in more than two years, and I look forward to hosting you and your classmates here in Ann Arbor. We will celebrate your accomplishments—in life and the law—as well as the resiliency of the bonds forged here at the Law School. Be assured that your health and safety are at the forefront of our planning, and this Reunion will adhere to all applicable University of Michigan, federal, state, local, and individual business COVID-19 guidelines for the duration of the event. We appreciate your cooperation and understanding. 
Our Reunion team has put together an exciting weekend of programming, including an insider's tour of Michigan Stadium, and I am excited to reconnect with old friends and make new connections in our community. On behalf of all of us at Michigan Law, we are thrilled to welcome you back home—it's been too long!
Mark D. West
David A. Breach Dean of Law
Nippon Life Professor of Law
Class Information
Expand your class year to view regularly updated attendance lists for registered guests, a list of Reunion Committee members, and other information related to your class.